Transnational writing programme
The writer-in-residence is a new concept in Sweden. Adnan Mahmutović, lecturer at the Department of English and writer, proves how valuable it can be. Traditionally, artist- and writer-in-residence programmes have given creatives time and space to make art removed from everyday pressures.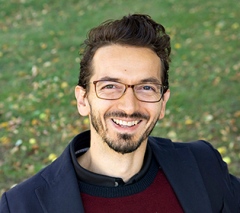 The Stockholm University writer-in-residence programme is a bit different from the old model. Instead of isolating writers, it gives them a chance to engage with the wider community of students and creatives while building up programs that will have a lasting impact on the future of the participants and, hopefully, the world. This is especially prescient for transnationalism, a genre which breathes humanity into peoples once represented only in flat caricatures. "We want to bring out the potential in aspiring writers who don't feel totally at home with the typical Anglo-Saxon model," says Adnan.
Adnan Mahmutović, who is also a writer with roots in Bosnia, has been instrumental in developing the MA program in transnational creative writing at Stockholm University. The program has many guest lecturers, but Adnan is at the hub. "It's a big honour to be a permanent writer-in-residence at Stockholm University because it's not so common in Sweden," says Adnan.
The program includes traditional workshops and read-like-a-writer classes which are all rooted in transnational perspectives. Even in a fundamental course like Aesthetics and Craft, the focus is more on cross-border work than the established canon. The approach has been adopted in a number of English-speaking programs like Bath Spa University, which has become a partner school offering a full exchange program for faculty and students. The "Stockholm approach" has also started to influence Bath Spa University.
University literary journal
Theoretical and practical approaches receive equal attention. One of the most popular courses has students producing Stockholm University's own literary journal, Two Thirds North. The students are coached through the entire process, from selecting the short stories and poetry sent from around the globe all the way through printing and marketing.
Adnan's own experience as a refugee and his deep reflection on its impact makes him an ideal candidate to launch the MA specialising in transnational creative writing. He fled from Bosnia in 1993 in his late teens, moving to Sweden and studying at Stockholm University while working nights as a caretaker for people with brain damage, an experience that strengthened his empathy even more. The same year he finished his Ph.D. he also published his first novel, cementing the relationship between academics and creativity. His three novels and numerous short stories bring a humanity to the refugee and exile experience – moving toward the future with a fierce determination seldom touched by sentimentality.
When asked what he would like to see as the roll of the writer he answers, "This may sound weird, but not many writers feel like they can take the globe as their stage. I'd like to see globalisation of writing that challenges what we call globalisation."