Servicecenter assists with local-, service- and security related issues
With Servicecenter and it's new central location, the Property Management Office can assist you as an employee, student or visitor with local and security related service issues in a comprehensive and efficient manner. The Servicecenter also administers housing related issues for international exchange students and guest researchers.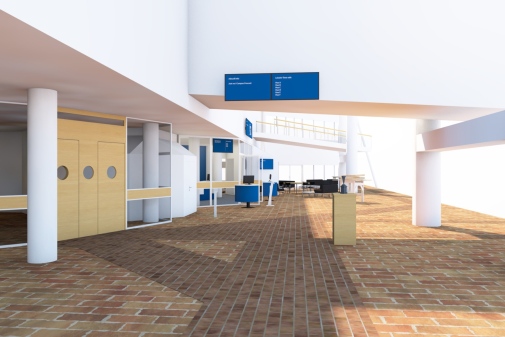 The construction of Servicecenter − Frescati Södra, next to Stockholm University Library, is ongoing and its estimated launch in January 2019 is approaching. Employees, students and visitors can turn to Servicecenter− Frescati Södra, for general information about premises, fault reports and the delivery of parking permits. Servicecenter also handles the storage of lost goods and valuables, external requests, as well as the booking of halls, tables and exhibition space. Servicecenter will also provide technical support and support for users of centrally managed halls. This includes the issuing and submission of keys and access cards to employees and students. Even international exchange students and guest researchers can pick up and leave keys at Servicecenter. Servicecenter also offers a selection of university profile products for sale.
Reception functions in B3 will close in connection with the launch of Servicecenter
With the launch of Servicecenter, the Property Management Office's two existing receptions in B3 (reception for local service in the Southern House, room B379 and Security Key Expedition in the Södra huset, room B371) will close and co-relocate to Servicecenter.
Planning for an additional Service Ccenter on campus
The Property Management Office also plans to open a Servicecenter in Arrhenius Laboratories, house B, floor 3 (B328), in 2019. At Servicecenter - Frescati Norra, the SU store, with its associated range of products, will be available.