Busy schedule for Honorary Doctor Thuram during visit
Lilian Thuram, French author and former football player spent a busy week in Stockholm in connection with receiving an Honorary Doctorate at Stockholm University.
Lilian Thuram played in the French national football team that won the World Cup in 1998 and European Championships in 2000. He has played for major football clubs such as Parma, Juventus and FC Barcelona. Today he travels around the world to inspire debate and create dialogue around racism and other forms of discrimination.
Since 2012, Lilian Thuram has partnered with Stockholm University, and has so far visited Sweden seven times to participate in activities related to education and other issues that he works with today through his foundation.
Honorary Doctors received awards and "took a knee"
Lilian Thuram is one of three newly appointed honorary doctorates in the humanities at Stockholm University. On Friday 29 September, he received the award together with author and journalist Susan Faludi and Professor Ansgar Nünning, in front of a crowded Blue Hall in Stockholm's City Hall. Lilian Thuram delighted with the award,
"It is very touching and unnerving too, a wonderful encouragement for the work I do in the foundation, and I feel that I now have a responsibility not to disappoint Stockholm University and the people who gave me the title of honorary doctor."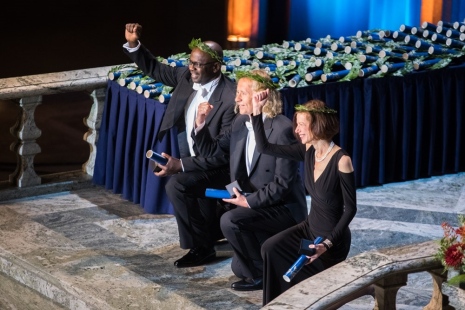 The three Honorary Doctors attracted international attention by participating in the protest against racism currently taking place in the sports world by taking a knee to jointly advocate for equality. This was, for Thuram, important to do this during the academic ceremony,
"To be here today, to get this doctor's award, is also to show that the fight may begin with athletes, but it must be won in the intellectual arena."
Tearing down cultural walls
In the open lecture "On Racism and Resistance", organised earlier this week in Farsta Kulturhus, south of Stockholm, Lilian Thuram spoke about racism and how we can build a sustainable society for the future together. Lilian Thuram's motto is "You are not born a racist – you become one". He believes that "only changes to our learned behaviour can bring us together and tear down cultural walls; only then will we be able to overcome the great obstacles hidden behind words such as 'visible minority', 'diversity', 'you' and 'us' – all determined by the colour of your skin."
Who can leave planet Earth?
Lilian Thuram also participated in a conversation about the climate and migration organized at the university entitled, "Can we be climate refugees tomorrow?", in which he discussed the ways that people today are affected by climate change, but unable to move.
"Only a minority can leave areas with natural disasters, most of them have to live with the effects of climate change," he said.
He continued with parallels to the future, when the whole of planet earth is affected, who can then escape?
"We all affect global warming and our climate, and the climate affects us all, it has no borders", he said.
Think outside the bubble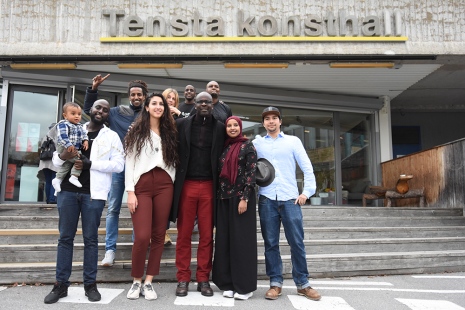 As part of the collaboration between Tensta konsthall and Stockholm University, Lilian Thuram also visited Nyhetsbyrån (the News Agency), the art gallery's course in journalistic and artistic narrative writing, for an interview. The discussion ranged through a variety of subjects, including resistance to structures in all forms, what role we all play and the importance of looking up and seeing how we all can contribute to making the world a better place.
"It became clear that we come from different generations and have very different experiences. Nevertheless, what he said made us start thinking differently than we are used to, getting out of our usual bubble, Ailin Moaf Mirlashari, project manager at the News Agency said.
"I think it was good when he talked about having to see himself and his own role in the structure and start from within to understand what the society looks like," Tomas Amanuel said.
Hedvig Wiezell, at Tensta Konsthall, thinks that the meeting was rewarding.
"The smaller conversations where different worlds meet are so important. The football world meets structures here in Tensta. It opens up perspectives to see that stigmatization is not something unique to this environment. You can make changes and need to make them in all sorts of rooms."
The News Agency is a long-term initiative for young people who are interested in art and journalism, where various forms of documentary narrative are investigated and practiced. The course is run by Tensta Konsthall in collaboration with JMK Stockholm University, Konstfack and StreetGäris.
Last updated: October 3, 2017
Page editor: Helene Komlos Grill
Source: External Relations and Communications Office