Prize recipients 2015
Criminology prize winners Ronald V. Clarke and Patricia Mayhew are pioneers of situational crime prevention.
The work of Ronald V. Clarke and Patricia Mayhew has helped re-shape crime prevention strategies world-wide to focus on changing the characteristics of the situations in which crimes repeatedly occur. This was the motivation of the jury when the winners of the Stockholm Prize in Criminology were announced today, November 5.
Working together in the early 1970s, the winners published a series of studies that demonstrated the importance of physical and spatial design in preventing crime. The 1976 paper of which Mayhew was the first author, Crime as Opportunity, was a major breakthrough in the conceptual framework for crime prevention. Instead of focusing on the social and psychological factors motivating criminals to offend, it showed how the physical characteristics of crime targets could lead to more direct means of preventing crime.
Suicide and gas supply
Between 1963 and 1975 the annual number of suicides in England and Wales showed a sudden, unexpected decline at a time when suicide continued to increase in most other European countries. Evidence reported by Clarke and Mayhew in 1988 suggested this was the result of the change in domestic gas supply that made it much more difficult to commit suicide merely by turning on the oven without lighting the gas.
The suicide evidence was followed in 1989 by a report that a 60 % drop in motorcycle theft in Germany after helmets were required for all motorcycle riders, with no increased in theft of bicycles or cars.
Situational crime prevention
These and other papers provided inspiration to the rapid growth of industrial and police applications of what became known as "situational crime prevention". The widespread application of the framework has been credited with a large part of the North Atlantic crime drop, including massive reductions in burglary, auto theft, and even violent robberies of mobile telephones.
Rarely has so much direct application of criminological research occurred so quickly, and with so much apparent benefit in crime reduction.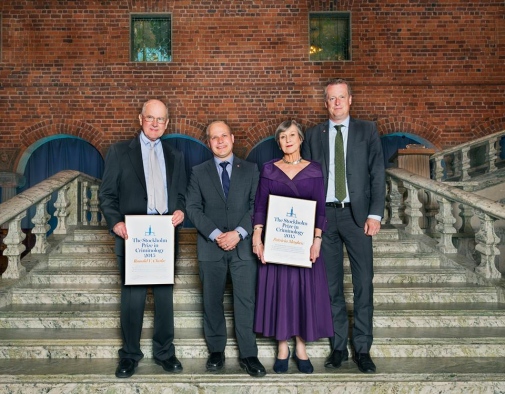 Ronald V. Clarke
Ronald V. Clarke is University Professor and former Dean at the School of Criminal Justice at Rutgers University. He is also a visiting professor at University College, London. Before moving from his native UK to the United States in 1984, he was employed for fifteen years in the British government's criminological research department, becoming its director in 1982. The founding editor of the annual anthology Crime Prevention Studies, Clarke also is author or joint author of more than 250 books, monographs and papers. In 2011, he was the subject of a book (The Reasoning Criminologist: Essays in Honour of Ronald V Clarke) written by former colleagues and students to recognize his "enormous and enduring" contributions.
http://www.newark.rutgers.edu/about-us/have-you-met-rutgers-newark/ronald-v-clarke
Patricia Mayhew
Patricia Mayhew OBE is a criminological consultant in the UK and a former civil servant in that country's Home Office. Former Deputy Head of the Crime and Criminal Justice Unit, she has also worked at the National Institute of Justice in Washington and at the Australian Institute of Criminology in Canberra. In 1982 she helped to design the International Crime Victims Survey, serving as co-author of its early reports and managing it until 2000. In 2004-2008 she was director of the Crime and Justice Research Centre in Victoria University of Wellington in New Zealand. She currently serves as a non-executive member of the UK Statistics Authority's Crime Statistics Advisory Committee, and as a member of the British Society of Criminology's Crime and Justice Statistics Network. In 1997, Queen Elizabeth II appointed her to the rank of Officer of the Order of the British Empire for services to Criminology.
Key publications
P. Mayhew, R.V.G. Clarke, A. Sturman, J.M.Hough (1975). Crime as Opportunity. London: Home Office.
Clarke, R. V. (1983). Situational Crime Prevention: Its Theoretical Basis and Practical Scope. Crime and Justice: An Annual Review of Research, 4, 225-256.
Clarke, Ronald V., and Pat Mayhew (1988). "The British gas suicide story and its criminological implications." Crime and justice 10: 79-116.
Further information
Chairmen of the Jury
Professor Lawrence Sherman, University of Cambridge and University of Maryland:
Lawrence.Sherman@crim.cam.ac.uk, +44 (0)1223 335 369
Professor Jerzy Sarnecki, Stockholm University:
jerzy.sarnecki@criminology.su.se, +46 (0)8-16 21 02
Award winners
Patricia Mayhew, mayhew3@btinternet.com, tel +001-753 399 3266.
Ronald V. Clarke, e-mail: rclarke@newark.rutgers.edu +001-973-353-1154
Prize award ceremony
The prize was awarded to the two winners at the prize ceremony in the Stockholm City Hall on June 9, 2015.
Co-founders
Original donor
Other donors