Key factors bring researchers from all over to Stockholm University
Stockholm University attracts many top-quality researchers from around the world. Here our international faculty outlines why they chose Stockholm University as their work place and home.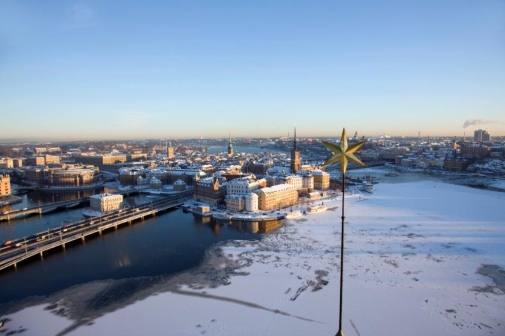 World-leading research
Every scholar interviewed mentioned the high level of research at Stockholm University. Gerda Neyer, an Austrian demographer, was keen on working with the Demography Unit. It's one of the leading centres in social demography in Europe—and the world," she said. When she was offered a position at the Stockholm University Linnaeus Center on Social Policy and Family dynamics in Europe, (SPaDE), she couldn't refuse.
Jonathan Kuyper, a political science post-doctoral researcher from Australia, also agrees. Although Stockholm University is not the biggest, the quality of the research is exceptionally high. "I've spent time at world-leading places like Princeton and Oxford. The Political Science Department here at Stockholm University might not match these places in terms of size, but the research being done is just as impressive."
Collegiality and egalitarianism
Ernest Chi Fru, a Cameroonian geomicrobiologist, was first attracted to Stockholm by the facilities and the focused and inspiring research. He grew to love the friendly environment. "Swedish society is built on equality for all and frowns on cut-throat competition, which has several benefits of empowering everyone and bringing out their worth." He describes the university as a "really excellent employer," the staff as "nice," the administrators as "very helpful," and his department head as "very supportive".
Internationally connected, firmly rooted
Patricia Shaughnessy, an Associate Professor in International Procedural Law from Hawaii, also fell in love with the possibilities offered by the university, even if it took some getting used to. "I was surprised when I first come that everyone at the university is on a first-name basis. But people here… are friendly and non-hierarchical. They're hospitable and unpretentious. I appreciate that." She also raved about the impressive access to libraries and databases and how helpful the librarians are in locating difficult resources. "I can sit in Stockholm and do the same research I could do in New York."
The best part? Stockholm
"We have academic independence and freedom of thought. I'm engaged with the Swedish business and legal community in this beautiful city, and I can contribute to my field on an international level…. I have an opportunity to both teach students in an area I find exciting, and to engage in the local and international community. What more could I want?"
Last updated: April 25, 2019
Page editor: Helene Komlos Grill
Source: External Relations and Communications Office