Celebrate your Master's degree!
Friday 26 November 2021 18.00 – 20.00
Aula Magna or online
Join the Conferment of Master's Degrees and celebrate your achievement! If you have completed a Master's degree, or equivalent at an advanced level, you will be invited to the ceremony in Aula Magna.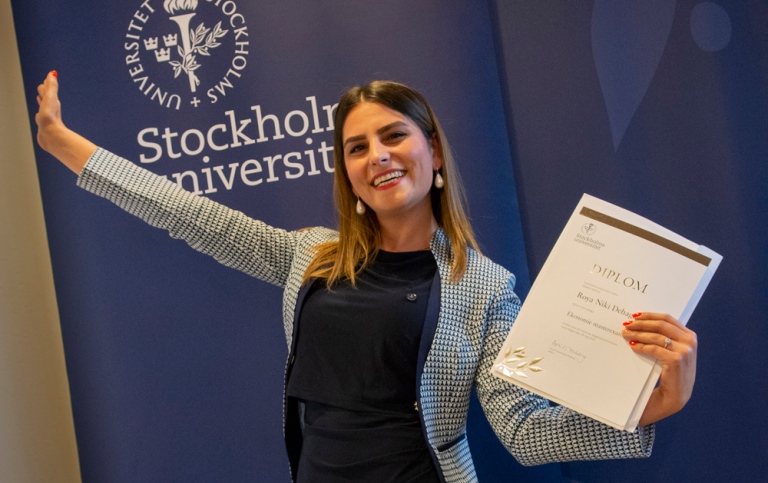 Congratulations!
Stockholm University welcomes everyone who has taken a master's degree or equivalent at an advanced level no later than 15 July 2021 to celebrate their achievement.
The ceremony will be broadcast live from Aula Magna's magnificent auditorium and feature speeches by representatives of the University Management and the Faculties, as well as entertainment. We hope that the ceremony can be carried out with all participants on site in Aula Magna, but if the covid-19 situation so requires, the participants will instead be presented with a name and a photo on screen during the live broadcast.
All participants will receive a diploma as a memento of the ceremony and of the time at Stockholm University. (Please note that the diploma is not the formal proof of the degree. Instead the digital degree certificate has been sent by email.)
The ceremony is open for anyone to watch. A link to the live broadcast will be published here and from the STARTpage of www.su.se/english.
About the Master's Conferment
The Conferment of Master's Degrees is an old academic tradition but a fairly new ceremony at Stockholm University. The first was held in 1997. The word promotion (as used in the Swedish word Magisterpromotion) comes from the latin word promovere, which translates to advance or move forward, but here in a figurative sense to promote.
Last updated: March 25, 2021
Source: Office of the President