"Study abroad was the best choice I could have ever made"
"I need to make a confession. Not even three years ago, I was unfamiliar with what the United Nations stood for as an institution. But through international education, I was lucky enough to broaden my horizon and in the process, I got as far as standing here today, representing the Netherlands regarding Sustainable Development Goal 16 - peace, justice and strong institutions," says Stockholm University alumna Annelijne Verburgt in her UN speech.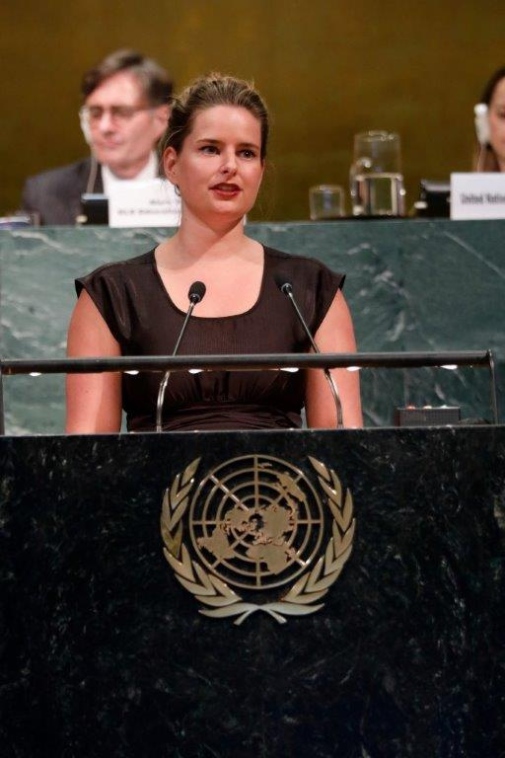 Annelijne Verburgt, an alumna from the Master's Programme in International and Comparative Education at the Department of Education at Stockholm University held a two-minute speech in the General Assembly at the United Nations in New York in July, 2017.
Many Languages, One World
Her way to the General Assembly in the United Nations went through the essay competition "Many Languages, One World". The prize was a trip to New York and Boston for eleven days together with young academics from all corners of the world. Annelijne was one of 60 winners.
"The competition is an initiative of the United Nations Academic Impact (UNAI) and English Language Service (ELS). Your essay had discuss global citizenship and cultural understanding, and the role that multilingual ability can play in fostering these. The essay had to reflect your personal, academic, cultural and national context. One main rule was that your essay had to be written in one of the official UN Languages (English, French, Spanish, Russian, Chinese or Arabic) and the language of choice couldn't be your mother tongue. I wrote mine in English." explains Annelijne. "My speech was about how everyone has an impact which they should use wisely, for example regarding the refugee crisis we all failed to avert. This was a once-in-a-lifetime-moment, for sure."
The 60 winners came from 27 different countries and had studied at 57 different universities. They were divided into six groups, one for each language. All groups were assigned a Sustainable Development Goal (SDG) from the UN2030 Agenda. Annelijne's team received SDG no. 16, which focuses on peace, justice and strong institutions. "You had to write a small report regarding your home countries' progress or setbacks regarding this goal. In my group, there were people from Ukraine, Kazakhstan, Brazil, Rwanda and more."
About studying at Stockholm University
"I have met so many people from all over the world, which made me realize even more that I want to work in an international and intercultural environment." says Annelijne. "The program itself taught me about education on a worldwide scale and the huge amount of inequality in the world. The programme and my classmates inspired me. I truly believe that if we work together we can narrow the gaps".
Annelijne graduated from Stockholm University in July and will be receiving her Master's degree during the University's conferment ceremony on October 27th.
For more information about Many Languages, One World, and Annelijne's essay visit: www.manylanguagesoneworld.org
View Annelijne's full speech in the General Assembly at the UN, New York here: