A student recruitment and alumni roadshow in India
This fall Stockholm University arranged alumni events in three cities in India while on a student recruitment road show. We met prospective students at education fairs by day and alumni by night in Delhi, Bangalore and Mumbai. Stockholm University drew considerable interest at the fairs and the consensus among our alumni was to build a stronger alumni network in India.
Re-connecting with alumni Delhi
We saw old and new faces for our third visit to Delhi. Joining our alumni gathering was the Minister Counsellor & Deputy Head of Mission at the Embassy of Sweden as well as the Secretary of the Swedish Institute Alumni Network in India. There were lively discussions on potential collaborations between the university and the alumni, and the support that could be provided by the Embassy, the Swedish Institute and a broader Swedish-India network.
Meeting new alumni in Banglaore and Mumbai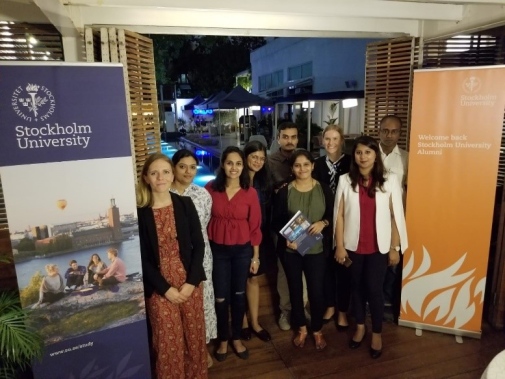 This was the first time SU was present in Bangalore and Mumbai. Alumni in both cities were happy to be invited and eager to re-establish a relationship with Stockholm. An alum from the Department of Computer Science (DSV) participated in the student recruitment fair the day after the alumni dinner, where he spoke to potential students about studying at Stockholm University.
In Mumbai, we were joined by the Consul at the Consulate General of Sweden in Mumbai. While many of our alumni were interested in building their networks, and collaborating with Stockholm University, some showed an interest in working with current students as well.
For alumni in India interested in being connected with fellow alumni, please contact Aarushi Balani, aarushi.balani@su.se.