Food for thought - sustainability-themed "Third Tuesday"
For our "Third Tuesday" afterwork in February the theme was sustainability. An esteemed panel of Stockholm University alumni and researchers addressed the gathering of ca 100 SU alumni, students, employees and SU-friends, sharing knowledge, experiences and words of wisdom.
Sustainabilty from a multidisciplinary approach
For our "Third Tuesday" afterwork in February the theme was sustainability. An esteemed panel, transcending three faculties and composed of Stockholm University alumni and researchers, addressed the gathering of ca 100 SU alumni, students, employees and SU-friends, sharing knowledge, experiences and words of wisdom.
Community and collective action
Christina Schaffer, teaches sustainable development at the Department of Natural Geography at Stockholm University, and entered academia twenty years ago but always kept one foot firmly outside, maintaining a close collaboration with society. She started her career with two main goals: to save the world and to have fun. However she became depressed when she started studying and doing research about environmental issues. She took action and became an urban gardener, small-scale farmer, an experimental agroforester and is currently a board member of five civil society organizations and NGO's. "That is how to contribute to change as a citizen not just as a consumer."
Investing in her relationships and building community in the pursuit of sustainable change has become a way of life for Christina and from this she gets energy and enjoyment. One of her most important networks is the one that she keeps alive with her former students, who remain close with her year after year. "My best network is with my former students. I guide them through thier studies and they give me a lot of new ideas…it's just amazing. They keep me up to date about what sustainability is now and what potential jobs are out there in the field."
Passion as a force for good
Erik Huss, with a doctoral degree in natural geography from Stockholm University is today CEO and Founder of Husstainability, a company offering support to companies and organizations on how to be more environmentally sustainable and responsible. Erik entertained the gathering with a dramatic story of getting stuck in an avalanche in his 20's. He rolled 600 meters and surfaced, surviving the disaster thanks to an article in a ski magazine he had read years before. He addressed the young in the audience "Young people…read! Read ski magazines! And to all of you CEO's - read science! You might save the world."
Just like Christina he related feeling despair as he acquired a deeper understanding of the environmental problems facing the world and he too found solace in action. Protect our Winters, a community working for environmental protection, was a cause Erik joined due to his passion for skiing and winter sports. "Follow your passion and turn it into action! Make your passion a force for good and a force for change!".
Taking the lead for coporate change
Kaj Török, with a background in marine biology and systems ecology from Stockholm University, spoke of his work as CRO & CSO of Max Burgers. In the last 10-15 years Max has taken large strides toward becoming more environmentally friendly and sustainable. "In 2008 we started doing things in a systematic way around climate change. We had the world's first climate labeled menu…we introduced carbon offsetting by planting trees…we have been leading the change in the restaurant chains toward green food."
However he related that it's not enough to just reduce emissions. Climate neutral can no longer be the goal so Max is now "climate positive" through a three step implementation. 1. measure everything in the value chain. 2. reduce emissions. 3. capture carbon through tree planting. He spoke of the need for a revolution within the restaurant industry. "The most important thing we can do is inspire other companies to do more. So right now we are trying to lead a revolution. My hope is that one day we can wake up in beds that are climate positive, put on robes that are climate positive…and we can all be part of the solution."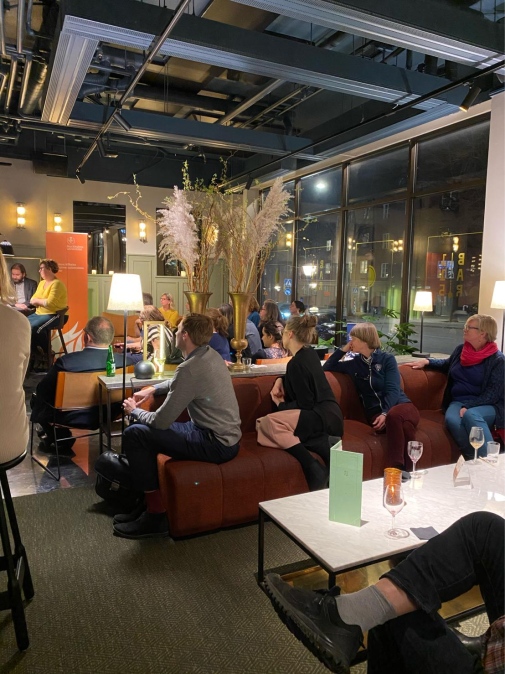 Ethics and sustainability
Henrik Lagerlund, "philosophical foodie" and professor of philosophy at Stockholm University started – as philosophers do – at the beginning. "What is sustainability?" he asked the audience. He extrapolated past the definition of sustainability as the way we use it today has added connotations. "Something is sustainable if it meets the needs of the present and doesn't compromise the ability of future generations to meet their own needs. But what's wrong with compromising the ability of future generations? Justice seems to be central to this question…the human race is constantly borrowing from future generations without the ability to give it back."
He then asked a series of hard questions. Do we care about the environment or just our own survival? Is there is an intrinsic value in the human race continuing? Why should we feel an obligation to future generations who don't exist yet? He concluded that we are obliged to not harm our children and therefore cannot compromise their future ability to flourish by living unsustainably today. Henrik identified food production as perhaps the greatest threat to a sustainable future. "The challenges are enormous. Our food system has massive problems and cannot be solved unless we change our own habits."
Good-on-paper solution
Natasha Webster, researcher at the Department of Human Geography, defined herself as a feminist economic geographer and spoke of her research on migrant women and work. "How does our day to day working life create or not create social sustainability? How do the ways in which we work shape what we value?" She used the Swedish labor market as an example of a very unfair playing field. Race, class and language play a big role in who are the haves and have nots and segregation and social stratification are a result.
New, entrepreneurial and innovative working models such as sharing services like Uber and bike delivery services are often lifted as examples of sustainable solutions that erase barriers for entering the labor market for vulnerable populations. "A lot of these new solutions look good on paper – sustainable, environmentally friendly, creating access to the labor market for vulnerable populations – but how are they related to broader social processes?
Food for thought
The panel left the audience with "food for thought" as evidenced by the fact that large groups of people stayed well past afterwork hours, discussions still in full swing!