Launch of Stockholm University Alumni Mentorship Programme
With over 100 participants, a new mentorship programme kicked off in October - connecting alumni and students for mutual benefit. The high energy, drive and commitment was palpable and the third floor of Geovetenskapens hus was positively buzzing.
The formal launch of the programme was on October 16 and featured a mingle, speeches by alum and honorary doctorate Johan Eriksson, and leadership representative Jessika van der Sluijs, Dean of the Law Faculty, followed by dinner.
Prior to the launch, two workshops were held by mentorship expert from Novare Leadership Academy, Alice Stål, highlighting the key factors to get the most out of a mentoring realtionship. Commitment, engagement, openness and communication were some of the factors both groups identified as crucial, in addition to setting up goals and taking time to reflect. Alice Stål also urged the mentees to act on new insights, absorb the knowledge shared by their mentors, let their guard down and be themselves.
Why engage in a mentorship programme?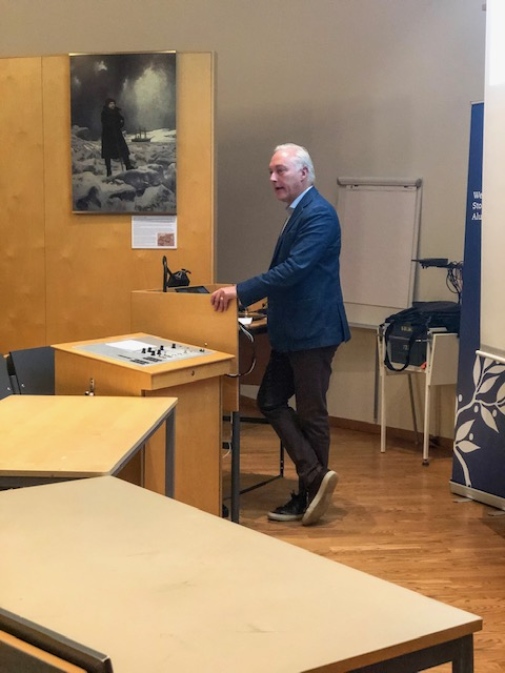 While the reasons may vary, many of the students stated that they would like guidance on career opportunities, be inspired, expand their network and develop themselves. The mentors highlighted that they want to share and exchange knowledge and experiences, encourage the mentees, and gain new insights of their own. And also, simply, that it is fun – a reason as good as any.
Want to make a difference
Deeqa Odaway is pursuing the master's programme in human geography. She has worked as a research assistant but realized that she wants to pursue more practical work than just research.
"I am part of the mentorship programme to get inspiration
and tips on how to proceed in the future. Ideally, I want to work internationally and make a difference" she says.
International experience is exactly what her mentor Abukar Omarsson has after working for two years in Somalia. Today he works as an officer at the Ministry of Labor.
"When you study at the university, there is a lot of theory. But many students want to know what happens afterwards. Then it is great to have a mentor" says Abukar Omarsson.
Eight departments are participating
For the 2019-20 Alumni Mentorship Programme, eight departments are participating:
• Molecular Biosciences (MBW),
• Ethnology, History of Religions and Gender Studies (ERG),
• Biology Education (BIG),
• Media Studies (IMS),
• Astronomy,
• Human Geography,
• Physics and
• Stockholm Resilience Center.
Magnus Axelsson works at the Physics department and says that they want to improve the connection to the labour market outside the University. Most of the students will not engage in research so the mentorship programme is a way to make that connection.
"When we started to look around for mentors, we immediately got answers. They seem to enjoy coming back here to help our students" says Magnus.