A world tour with the digital "Third Tuesday"
What was Svante Arrénius' discovery about the climate? Which Swedish prime ministers have studied at Stockholm University? And what came first, the moon landing or suitcases with wheels?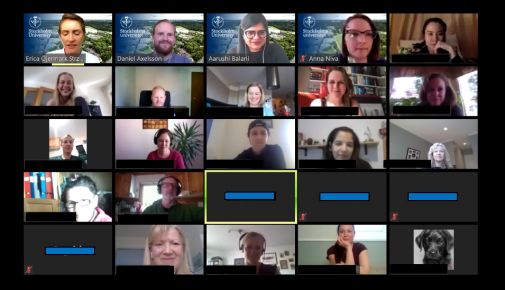 Participants from Sri Lanka, Kenya, Germany, USA, Thailand, Italy Canada and Sweden, among others, joined our first digital "Third Tuesday".
Connected via Zoom, participants answered questions on mentimeter, first in a quiz of a general nature and then one with SU-related questions where reading the university newsletter could give one the winning answers.
The afterwork started with casual small talk and a mentimeter check-in on how to keep up good spirits during these quaratine times. Participants talked about everything from yoga, meditation and cold baths to books, streaming shows, meeting friends and family online, and learning new things.
When asked about what to look forward to when the pandemic is over, many replied that they wanted to go out to eat, exercise, travel and socialize, while some looked forward to engaging in climate activism, going to a museum but also returning to work. It was also interesting to reflect on how different strategies adopted by countries in dealing with the pandemic affects everyday life.
The alumni team is pleased with the response we received for the event and look forward to similar activities in the future. This is what Erica Öjermark Strzelecka from the alumni reltation team says: "We have long wanted to involve our alumni who live in other parts of the country and outside Sweden in the events and initiatives that take place in Stockholm. This applies to both the AW series "Third Tuesday" and other initiatives. Now that no one has the opportunity to be physically seen, it levels the playing field and it feels so obvious and easy to include everyone. We would like to continue to reach out this way even after the crisis is over."
Last updated: May 8, 2020
Page editor: Daniel Axelsson
Source: Samverkansavdelningen