Alumni Dinner in Stockholm
On November 26, alumni that have participated in the Ask our alumni project were invited to dinner at the External Relations and Communications Office. The evening resulted in the first step toward forming a Stockholm University Alumni Chapter.
Thank you dinner
On November 26, a casual dinner was held at the External Relations and Communications Office on campus for alumni that have participated in the project Ask our alumni.
In total 15 alumni attended the dinner where the overall objective for the evening was to thank them for thier engagement, for them to meet each other, and thereby start exploring the possibility of establishing a group.
Starting an alumni chapter in Stockholm
After a presentation about alumni relations at Stockholm University, particpating alumni were encouraged to share thier reflections about:
Thier time as a master's student at SU.
How the transition from study to work has been since graduation (job searching, challenges and successes in getting established in Sweden, etc.).
If they would be interested in forming an alumni chapter and if so, what would they like to do together in thier role as alumni?
Forming and growing during 2019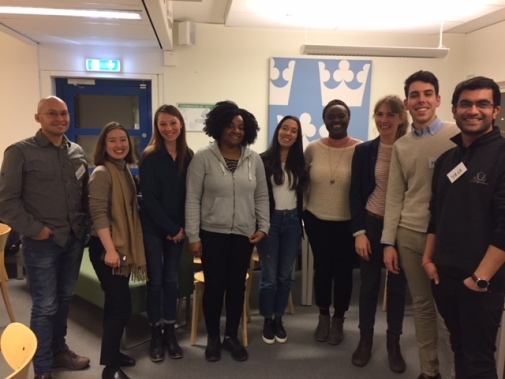 Valuable input about how to form and grow an alumni chapter in Stockholm resulted from the dinner, as did a number of ideas that the group wanted to explore further. Initiatives regarding providing support to current international master's students, expanding professional networks and creating a social community were just a few of the themes that arose.
During the course of 2019, the alumni team at Stockholm University will be holding regular events and meet-ups in Stockholm in order to further solidify and grow this group of engaged alumni.
The possibilities of what we can do together as a group are many and with such a great core group of alumni already involved, the sky is the limit!