September 27, 2018: The number one tip for current students: Network, network network!
On September 27 special guest and alum Saeid Esmaeilzadeh, entrepreneur and co-founder of the Serendipity Group, was interviewed before a student audience at the Natural Science Faculty Club. An alumni panel discussion was held prior to the interview, the purpose of which was to inspire students to start thinking about their next steps toward working life.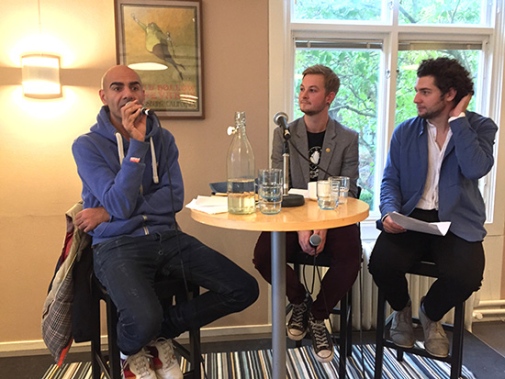 Special guest for the evening was alum Saeid Esmaeilzadeh who has a Bachelor's degree in Chemistry and a PhD in Inorganic Chemistry from Stockholm University. At the age of 28, he became Sweden's youngest docent in Materials Chemistry. He is a member of the Royal Swedish Academy of Engineering Sciences, a serial entrepreneur and co-founder of Serendipity Group. He has also held several executive positions at international and Swedish companies across industries.
A passion for knowledge drew Saeid to university
Saeid enjoyed his carefree time as a student, a period he describes as the best time of his life. He says the best thing about going to university was that you learned how to gather, process and analyse information.
–It was never a passion for chemistry that was the big thing for me, but the passion for knowledge. When I was 12, I decided that I wanted to become a professor. I didn't really get what that was, but I understood that professors are people who are really good at something.
Don't focus on the risks
Saeid doesn't see naivety as a bad thing, rather the opposite.
–I have young, so called "bumblebee CEO's", in my companies. You know, bumblebees don't know that they're actually not able to fly, so they fly. Bumblebee CEO's don't see the risks that older people tend to focus on.
If he were to back in time and give his younger self some advice, it would be to study a combination of different subject fields. Not just chemistry and physics, but why not chemistry and economics? Or physics combined with law?
–That way you take from two worlds and in there you'll find edge. The world gets much more colourful!
Saeid dreams of solving problems but also self-deprecatingly calls himself "quite lazy".
–I only want to do things that I love and I manage to gather creative people around me. Perhaps that is my edge.

Student life helped them build a network
The alumni panel for the evening was composed of three alumni: Emelie Wettervik, physicist, computer scientist and Development Engineer at Scania; Therese Wåtz, biologist and Project Communications Manager at the World Wide Fund for Nature (WWF) and Tobias Nilsson, PhD candidate in biochemistry.
Both Emelie and Tobias were involved in the Natural Sciences Faculty Club during their studies, something they would recommend to current students. Emelie even got several job offers later on through friends she had made at the Faculty Club. Both Emelie and Tobias say the Faculty Club gave them a good social network.
–"Networking" for me was just meeting people at, for instance, the Faculty Club's pub and talking with them about common interests, Tobias says.
–"Networking" could also be joining a study group – you don't necessarily have to mingle at an event if that's not your thing, Emelie adds.
"Don't look for a job saying 'Physicist wanted!'"
Emelie thought her job would include more mathematics than it actually does, but she soon realised that computers do most of the equations. She says she wasn't always sure what she wanted to do after her studies, but that it was a decision that grew over time.
–Don't look for a job advertisement that says "Physicist wanted!" because you won't find one, Emelie says. Instead, look for other wordings like "analytic abilities". You have to read between the lines in job ads.
Tobias was recommended to apply for a PhD position by a professor he had during his master's studies. Therese got her job at WWF after she had done an internship there during her studies.
Tips for their younger selves
On the question about what they would have told themselves if they were to have a do-over with their studies, Therese had a straight answer:
–Network, network, network! Your network will be invaluable when you're looking for a job. Also, consider doing an internship after you finished your Master thesis. That way you don't have to go back to studying after finishing your internship, you're ready to enter work life right away.

Tobias answered that there will be times when the studies will feel overwhelming, but it's worth to keep going.
–Like when you're studying for an exam during your Christmas holidays and you wonder why you do it. Push through, it's going to get better! And don't try to do too much all at once.

Are you one of our alumni? Don't forget to join Stockholm University Alumni Network!