The passion for bacteria led her to a doctoral degree
During her Master's programme in Microbiology, Sara Sigurlásdóttir didn't have any plans on applying for a PhD position. But when working on her Master's thesis she found her topic so interesting, that when she got the chance to continue doing research on it she had to say yes.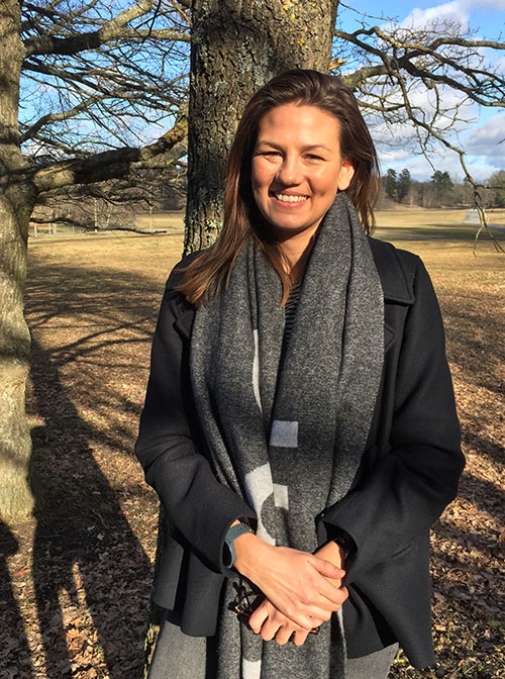 Sara was born in Stockholm as her parents moved there from Iceland during her father's football career in the 80's. When she was about 2 years old the family moved back to Iceland. Sara grew up in Vestmannaeyjar, a group of islands situated off the southern coast of Iceland. After high school Sara moved to Reykjavík to attend the University of Iceland where she earned a Bachelor in Biology. She had visited Stockholm several times with her family, so it was no big surprise when Sara made the decision to enroll in the Master's programme in Microbiology at Stockholm University in 2011.
–It was a big change coming to Stockholm University – the university was huge! But I really liked it. In Iceland you study several courses at the same time, but here you study one course at a time. For me, that made it easier to focus and I felt I got enough time to read. And I guess other people would disagree, but I really like the weather here, it's much more pleasant than in Iceland.
The Master's programme in Microbiology was taught in English, with mainly international students. Sara found it quite easy to get to know people in the class. As for Swedes, Sara thinks they are quite similar to Icelandic people.
–We are both kind of reserved, so I feel at home with Swedish people. An outgoing American coming to Sweden would probably feel different, Sara says with a smile.
The Master's thesis led to a PhD position
After she finished her Master's degree in 2013, she applied for a PhD position within the same field as her Master's thesis. She had studied bacteria that can cause meningitis (brain inflammations) and blood infections, and how the bacteria colonizes human cells. But to stay within academia hadn't always been her plan.
–I thought I would just try to find a job, but I got the chance to continue studying the topic of my master thesis. It was so interesting I didn't want to give it to someone else! Also, you have much more freedom in research, you can develop your own methods and you're always doing something new. In the end I loved doing a PhD.
Sara would recommend international students to immediately start taking Swedish classes when they come to Sweden. If you decide to stay within the academia in Sweden, it won't get easier to learn Swedish since the academia is such an international environment. Later, if you want to find another job in Sweden, it actually is important to know Swedish and you will be grateful you took Swedish classes early on.
Passion is essential
She recently defended her doctoral thesis and is currently finishing her time as a postdoctoral researcher at the Department of Molecular Biosciences at Stockholm University. As the next step, Sara's hoping to get a research position at another university. On the question about what she's dreaming of doing career wise, Sara has a straight answer.
–I just want to do something I'm happy with. I'd love to one day become a supervisor and a professor in the end, or maybe play a big role in some company. I would be open to another adventure abroad, and someday I do see myself moving back to Iceland. But the most important thing for me is to feel motivated and passionate about my work.