Three generations of alumni attended afterwork
For the Crispin Quiñonez family, SU's alumni afterwork "Third Tuesday" is a family affair. Three generations have studied at SU, and all of them participated in the "Third Tuesday" afterwork in May, when Valdemar – third generation SU alum - distinguished himself by winning the trivia quiz.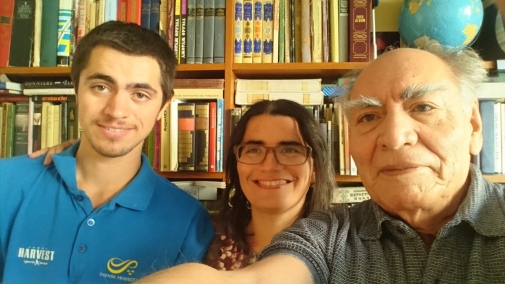 "It was my idea that we would all gather together, I like the concept. I have also been to Elite Palace Hotel with my mother and former colleagues. And now in corona times when you don't meet so many people, I think it's nice with digital afterworks", says Veronica Crispin Quiñonez, daughter of Julio and mother of Valdemar.
Predisposed for mathematics
Veronica Crispin Quiñonez studied mathematics at Stockholm University already during high school, since she was several years ahead of her classmates. She wrote her dissertation on the subject and currently works as an associate professor of mathematics at Uppsala University. The aptitude for mathematics has been inherited as her son Valdemar also studied mathematics at SU while still in high school.
"Combinatorics, ie where you study combinations, was exciting. But the problem solving was not always easy because I am a bit restless", says Valdemar who is an adept long distance runner and racer.
Father and grandfather Julio studied computer science, criminology and linguistics at SU in the 1980s.
"I am very curious and have been on different subjects and sciences. From the beginning I was an agricultural agronomist, since then I have worked in treatment homes for people with social problems of various kinds. Psychology is very exciting, I think. Humans are the most enigmatic creatures there are", says Julio, who is also interested in history and geopolitics and says he may return to university to study the subject in the future.
Julio has not studied mathematics as his child and grandchild have but has use of math when it comes to playing pool, something he engages in at a high level. The game of three-cushion carom requires that you need to be able to quickly calculate angles.
Winner of the quiz
The family's youngest alum won the second trivia quiz of the evening.
"You can get lucky with multiple choice. It is always possible to exclude certain answers, it would have been more difficult if there had been open questions", says Valdemar.

Last updated: June 15, 2020
Page editor: Daniel Axelsson
Source: Samverkansavdelningen