Alumni Around the World
International master's alumni are annually featured in Stockholm University's master's brochure. We are now looking for alumni for the 2019-2020 edition!
Stockholm University Master's Brochure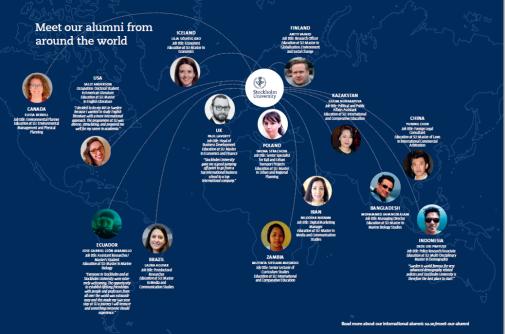 Stockholm University publishes a new master's brochure at the start of each academic year. As part of our efforts to increase visibility for our international master's alumni, we have since 2017-18 published an International Alumni fold-out at the center of each brochure where alumni from different countries and representing different master's programmes are featured both with a profile picture and a quote about thier studies at Stockholm University.
Recruiting alumni for 2019-2020!
In January 2019 we will be looking for alumni to be featured in the coming edition of the Stockholm University Master's Brochure . If you would like to represent your master's programme, contact alumni@su.se!