To have a friend far from home
Irini Ioannidou is studying the Human Relations programme at the Department of Education. She is very interested in travelling and discovering new cultures, why she decided to do a Minor Field Studies (MFS) stay abroad as part of her studies at Stockholm University.
Nussara Jaturunsomboon studied marketing and management at the Stockholm Business School (SBS) at Stockholm University. Today she is working as an Event and Marketing Manager at the Thai Swedish Chamber of Commerce (TSCC).
Somebody to talk to about your cultural experiences
Irini had only visited New York City outside of Europe before going to Thailand for the field studies for her bachelor's thesis with the title "Thai Students' Expectations on Their Professional Future – With a Lifelong Learning Perspective". She says that travelling to a new country can be exciting, but also scary, and that she wanted to feel that she had a friend when she arrived in Thailand. Irini thought it could be a good idea to have somebody to discuss norms, rules and traditions with, since she was going to interview Thai students. She also felt comfortable, that the MFS Buddy had studied at Stockholm University and knew the Swedish culture.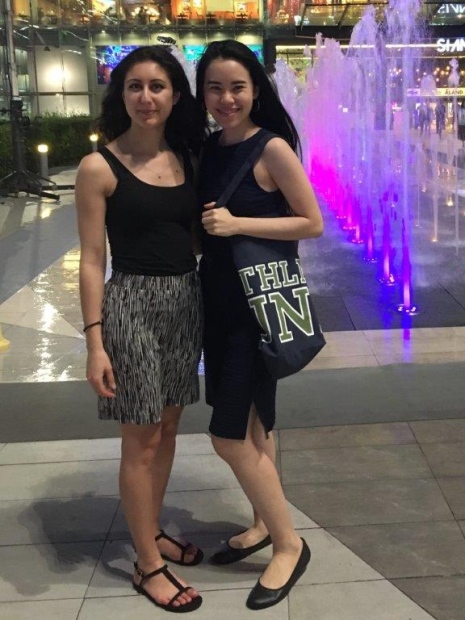 You need a buddy being far away from home
Nussara was an incoming exchange student from Thammasat University in Thailand when studying in Stockholm. She remembers what it was like to come to a different culture with another kind of weather, other types of food, and being far from home. She decided to participate in the MFS Buddy Programme, because she wanted to help a student from Stockholm University to adapt easier to be happy during the time in Thailand. Nussara had a buddy who helped her to settle in into the Swedish culture during her stay in Sweden.
Swedish salty liquorice and discovering Bangkok
"The first meeting was lovely", Nussara says. Irini had brought her Swedish salty liquorice and her favourite Swedish chocolate, when they met in the city of Bangkok for dinner and "It really felt like we already were friends since we had chat a bit before", says Irini. The first meeting was followed by fika and dinner, and Irini knows they will meet again: "Nussara became one of my dearest friends in Thailand", she says.