Beatrice Fihn: SU alumna in Oslo accepting The Nobel Peace Prize
Beatrice Fihn is Executive Director of ICAN – The International Campaign to Abolish Nuclear Weapons - that is awarded The 2017 Nobel Peace Prize.
(Interview published March 2017, updated December 9 2017.)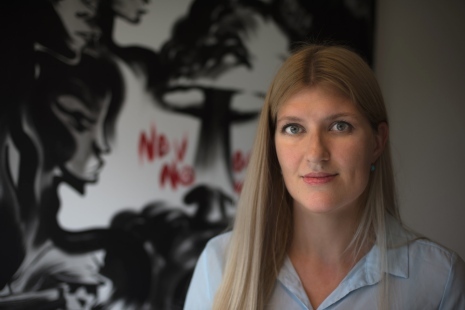 Beatrice Fihn developed an interest for international issues at an early age. At Stockholm University she enrolled in courses centered on international relations and earned herself a Bachelor's degree. Conflict resolution, international security and nuclear power were important themes in her education. Though fascinated by the theory she saw that the reality of these issues was considerably more complex than how it was presented in text books.
During her studies she interned at the Women's Power to Stop War (IKFF) in Stockholm where she learned about the UN and even participated in a UN disarmament conference in Geneva.
- In Geneva I learned about the practical side of policymaking and that even the placement of a comma sign can be of the utmost importance to negotiating parties, she says.
Working in Geneva
Upon earning her Bachelor's degree from Stockholm University Beatrice moved to Geneva where she studied law and then accepted a position with IKFF leading the organization's disarmament efforts. Beatrice was also elected onto the board of ICAN where she often found herself taking on a leadership role as the organization at the time did not have an Executive Director. In 2014 she was recruited to formally lead ICAN with its 400 member organizations in 100 countries.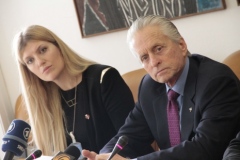 Banning nuclear weapons
ICAN has a very clear goal – to ban nuclear weapons. In order to reach that goal, mobilizing member organisations and their members is key.
When not infront of the media, Beatrice spends a lot of time behind the scenes, advocating and lobbying for ICAN's cause with key stakeholders.
Negotiations in New York
The last years have featured many trips to visit the UN in New York. Last December the UN General Assembly came to the decision that in 2017 negotiations to achieve a legally binding agreement to ban nuclear weapons would commence. This summer an agreement was reached during the negotiations in New York.
Next steps
What advice would you give a student who wants to follow in your footsteps?
- Don't focus only on your studies. Get involved in other organisations. I was active in the Swedish Association of International Affairs as a student. Also try to combine your theoretical studies with an internship. That gives you a better understanding of what you actually want to work with. A year abroad can also be a good idea.
Where do you want to be in five years?
- I see myself back in Sweden and working for an NGO. Maybe working for human rights, equality or the environment. There is no shortage of things that need fixing, in the world as well as in Sweden!
In Oslo to accept the Nobel Peace Prize
Together with Satsuko Thurlow, a survivor of the Hiroshima atomic bombing, Beatrice Fihn is in Oslo to accept the Nobel Peace Prize at a ceremony on December 10.
Read more in this AP article from Oslo, published December 9 2017: Nobel laureate: If atomic bombs exist, disaster inevitable