Catherine Odora Hoppers: Crossing boundaries and listening deeply are keys to success
When you bring people together across disciplinary boundaries, something magic happens. Catherine Odora Hoppers, the first non-South African to win "Nelson Mandela Distinguished Africanist Award" is convinced. Catherine was born in Uganda, earned a doctorate at Stockholm University, and is now a professor of sociology in South Africa.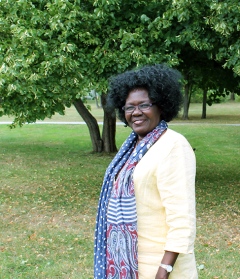 Catherine Odora Hoppers started as a teacher in Uganda and Zambia in the 1970s and still sees herself as a teacher in the broader sense. She elaborates, "To know something and share it, and to engage with others – that's what it means to be a teacher."
And connecting with other people means listening. Catherine Odora Hopper's father was village chief and in this capacity he encountered many people. She remembers that he was very quiet by nature and that he, after welcoming his visitors, just listened to them very closely while they elaborated their concerns and he came to really understand their circumstances. "Listening is a deeper thing", she says. She grew up with this kind of listening and it remains her ideal today.
"Sweden took me in with open arms"
Members of Catherine's family were murdered in Uganda during the unrest of the 1970s, and she fled to Zambia where she continued her education. She returned to Uganda, but was forced to flee again in the late 1980s which was when she came to Sweden. "Sweden took me in with open arms and gave me a place to rest. It has a big place in my heart – it's my home away from home."
Eventually she enrolled at Stockholm University, where she earned a master's degree in International and Comparative Education in the early 90s. She earned her PhD at Stockholm University by studying structural violence in a global context and its impact on policy making in Africa. She says, "It opened my eyes to the shortcomings of the industrialised north in understanding the developing countries and their possibilities."
Worked all over the word
Catherine Odora Hoppers has taught and researched in numerous countries after her PhD defence – Sweden, Norway, South Africa, Zimbabwe, Great Britain, and Canada – where she consulted on issues surrounding native peoples. Today she is the South Africa Research Chair in Development Education at the University of South Africa. In addition to being a researcher, she has consulted internationally for the Swedish International Development Cooperation Agency, NORAD, the World Bank, ACP-EU, UNESCO, UNICEF, the South African and Zimbabwean governments, and the Organisation of African Unity, among others. As both a researcher and an advisor, her primary concern now is with indigenous knowledge systems – the wisdom that is embedded in local traditions, medicines, laws, etc. She has also led the task team to draft the national policy on indigenous knowledge systems in South Africa.
Still returnes to Sweden regularly
Catherine Odora Hoppers still returns to Sweden regularly to visit her children who live there, she has a Swedish citizenship. And she also pursues research projects in Sweden, like the one that brings together professors, decision makers and doctoral students from Sweden and South Africa in a spirit of cooperation. She categorises the results as "dynamite."
"My time in Sweden changed me. I overcame my fears. I had to dig deep inside and begin to express myself," says Catherine. She loves the silence in Norrland, but she still wonders one thing about Swedish society. "I don't understand why the Swedes wear such dark clothing in the winter. That's when you need colour the most!"
Photo and text: Karin Tjulin