Cities – a place for opportunities
The future of cities was the topic of the last episode of the academic talkshow Crosstalks. How can we meet the opportunities and challenges of the modern city and build towards more sustainable and socially diverse cities where people can live comfortably?
The world is moving from agrarian to urban at a faster pace than ever before, according to reports. By 2050, two out of every three people will live in urban areas. But rapidly growing cities create difficult challenges when it comes to traffic, housing, social infrastructure and environmental footprint.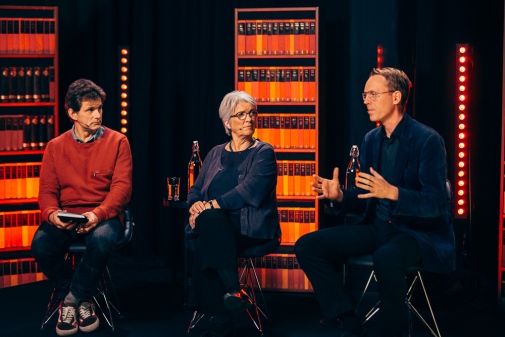 Participating guests were Gunnel Forsberg, Professor of Human Geography at Stockholm University, Alexander Ståhle, PhD, Researcher in Urban Planning at KTH Royal Institute of Technology and CEO of Spacescape.se, Mattias Höjer, Professor in Environmental Strategies and Futures Studies at KTH Royal Institute of Technology. Andrew Carr, Senior Project Architect at the award winning Brady Mallalieu Architects in London, joined the discussion via Skype.
A multifunctional place
"People move to the city because it a place which provides a lot of opportunities", Professor Gunnel Forsberg, started the discussion. "It is multifunctional, it is a place where there are work opportunities, higher education, as well as social and cultural opportunities".
"What drives city development is the search for proximity. The most important factor for housing prices in a city is walkability and car independency. You find the highest prices for apartment's where you don't need a car to manage with your daily life. What we see now is a big change from twenty to forty years ago when the car society was really dominating the development." Alexander Ståhle said.
"It is also important to remember that not everybody wants to live in cities", Mattias Höjer added.
Moving away from car cities
"The architects, engineers and politicians in the 1920 had this idea of a car city, thinking it could solve everything. What we can see today is that a car city is not so nice. So we have built a city that is not creating the kind of proximity, closeness, density and integration that we are looking for when we are going to a city. The car city is creating distance." Alexander Ståhle continued.
"We can see that the number of driving licences is decreasing. Young people don't take a drivers licence anymore. They can't afford to have a car. They don't know where to put it and they don't even need it", Professor Gunnel Forsberg added.
"What happens when basically all cars are self-driving? When you have drones delivering stuff to your home? You can theoretically take away 90% of the cars in a city and you would not need any car parking's. Many of these technologies could totally change our urban environment." Alexander Ståhle said.
Pocket development and common areas
The capital of London is a city which has grown immensely the past decades, and the inflow of new habitants continues to rise, creating higher real estate prices and more dense areas. "In London we are working with a development called pocket that develops very small housing, very well designed, so that you can make more efficient use of land. We are also arranging a lot of competitions to find new ideas on housing using roof top spaces, plots of land that are disused, but also the canal system with homes floating on rivers, canals and waterways." Andrew Carr told the panel.
"One thing that we are very interested in as architects is the way we design communal in between spaces to allow interaction between the residents, the users", Andrew Carr added.
Talking about common areas, Alexander Ståhle mentioned the street as a place "where people interact and can integrate. Maybe we can't mix everything so that all neighbourhoods have a lot of everything, but at least we can connect city districts with a truly public grid where everyone can move freely."
Environmental impact
Putting emphasis on the impact urbanisation has on the environment, Mattias Höjer interposed: "Environmental demands and energy prices will change cities a lot. If we continue to live as big as we do now, we will not be able to reduce energy use. The demand to reduce energy use will also put a lot of pressure on transport systems. I think technological development will be the most important thing to drive a sustainable development in cities. But I don't think that it will be enough. But there are other things as well that are important, like the size of the apartments, and how much we travel and by which means."
Letting more people work at home can be a solution to avoid commuting. "All of these people who don't live in inner cities shouldn't be forced to commute into the city, but be able to travel a much shorter distance to go to their offices, maybe even work part of their time at home." Professor Gunnel Forsberg said.
The panel ended the talk by underlining the important connection between academia, that is doing research on urban planning, and the people that are in charge of planning for the city.
About Crosstalks
Crosstalks is an international academic talk show, broadcast once a month by two of Sweden's top universities – KTH Royal Institute of Technology and Stockholm University. All episodes are available online here.
Last updated: October 23, 2015
Page editor: Helene Komlos Grill
Source: External Relations and Communications Office