How does material science shape our future?
Sustainable materials was the topic of the last episode of the academic talkshow Crosstalks " Bend or break: materials for the future". Human existence is, to a large extent, defined by the materials we use, a fact that is evident in the way we categorize parts of human history into periods such as the Stone Age or the Bronze Age.
Participating guests were Niklas Hedin, Professor at the Department of Materials and Environmental Chemistry at Stockholm University, Anna Delin, Professor in Computational Nanomagnetism at the School of Information and Communication Technology (ICT), KTH Royal Institute of Technology, Ulrica Edlund, Associate Professor in Polymer Technology at the School of Chemical Science and Engineering, KTH Royal Institute of Technology and Haseeb Ahmed, Research-based american artist, currently living and working between Brussels and Zurich who joined the discussion via Skype.
The materials that we are able to produce and manipulate also shape us in the process. Leaps in technology throughout history correlate strongly with the discovery of new materials, and today much of material science is done on a molecular and atomic level. What are the new materials that will enable technological leaps in the next few years? How does material science shape our future?
Avoiding waste
To avoid to use only fractions of the biomass we produce, Associate Professor Ulrica Edlund explained that her research tries to identify polymers synthesised by nature that we can use as viable material resources to avoid wasting biomass where polymers are hiding.
Relating to climate change as one of our biggest challenges, Professor Niklas Hedin explained how his research tries to find materials which can be used for capturing CO2 at a lower energy cost, for instance at large power stations. "There is a possibility to use bio waste for the production of functional materials. We have looked into large potential waste which could be used for CO2 captures, it would be a sustainable approach. Horses' excrements would be such waste. When we processed it we found that it was magnetic, which is an example of serendipity. We ended up with this well non embedded iron oxide when we tested the magnetism", Niklas Hedin continued, bringing up the topic of serendipity which may occur when you conduct research.
Coincidental findings
"Serendipity happens when you try out something you had not planned for. We try to do this systematically in computational modelling research, in order to find new elements", Professor Anna Delin said, and Ulrica Edlund continued: "Anyone can find things by coincidence, but to understand what it is, is really what makes you a scientist."
Art and science
Discussing the role of the researcher, Haseeb Ahmad, Research-based American artist explained what it means to be a research-based artist: "Artists have always done research, but research based artistry is a practice where the artist is more focussed on producing a methodology than producing the art itself, and therefore aims to work in an environment which is not always thought of as an art environment." He continued: "Many researchers are often asked to supply knowledge to industry. When scientists see artists, they see that they open up the territory. Art for art's sake opens up a possibility that maybe there is not a direct usefulness for an object, maybe it is possible to ask more questions. That is a benefit for these kind of research-art cooperations", Haseeb Ahmad continued.
Functional for users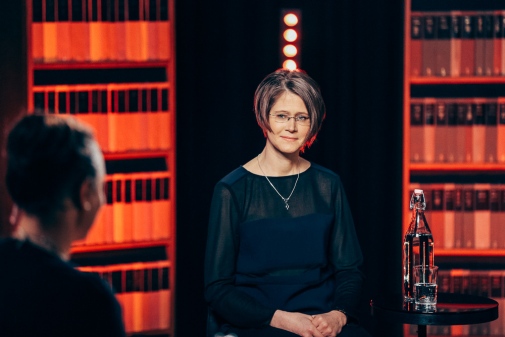 Relating material research to a user perspective, Ulrica Edlund added: "The everyday is very present when I do research. You have a tangible idea of what you want to achieve, it makes you more able to focus on what you want to try out, so that you develop something that can function and what people want to use. It is crucial to keep in touch with the real world when you develop materials you want to be used. Function has to be priority number one."
What does sustainable mean?
"This is a slow revolution, for us it is the everyday business to develop materials which are sustainable, like for instance today, we should test materials for recycling and toxicity before we use them. The most famous example when this did not happen is the DDT which was produced to eradicate malaria, but what happened was that this poison was slowly poisoning the whole eco-system, so you have to make many tests before you use materials at larger scale. This is how we work today", Anna Delin explained.
"Sustainable material is a huge concept, does it mean that it is renewable, recyclable? Sustainability is not one thing, we all need to know what we actually mean when we talk about sustainable materials", Ulrica Edlund added to the discussion on sustainability. "And how should policy makers be able to act on a global scale when we do not have functional global legislation and institutions to deal with issues such as the life time of materials", Professor Hedin asked.
"The resources we have are finite, we only have one earth. So there will be some kind of optimal level we can reach when it comes to population growth. There is a limit to what we can take out through the system", Anna Delin concluded.
About Crosstalks
Crosstalks is an international academic talk show, broadcast once a month by two of Sweden's top universities – KTH Royal Institute of Technology and Stockholm University. All episodes are available online here.
Last updated: January 25, 2016
Page editor: Helene Komlos Grill
Source: External Relations and Communications Office