Excellence Seminar furthers collaborations between academics in Singapore and Sweden
Ageing, materials and graphene, education challenges and urban planning were in focus when around forty Swedish top researchers and high-level university delegations visited Singapore 2-5 November to meet Singaporean colleagues during the Singapore–Sweden Excellence Seminar.
The objective of the seminar was to increase the knowledge about Swedish research in Singapore and to facilitate meetings between top researchers from the two countries in order to build new opportunities for collaborations within four research areas: ageing, materials and graphene, education and urban planning.
Opening session
The Opening Session included presentations which gave the participants an enhanced understanding of the higher education system in the two countries and was inaugurated by the Presidents of KTH Royal Institute of Technology and Stockholm University. Both welcomed the participants by emphasising the importance of collaboration: "By joining forces, we are able to address some of the profound challenges and critical needs facing humanity. Through a recurring collaboration and exchange of knowledge and ideas between researchers, we are finding solutions and results".
Funding opportunities
The first day programme also included presentations about funding possibilities from NRF and A*star in Singapore, from Formas, Vinnova and STINT in Sweden and EU-funding. Håkan Jevrell, Ambassador of Sweden to Singapore, talked about bilateral collaborations , and KTH-professor Christer Fuglesang, Sweden's first and only astronaut, about bringing space experience to a university. Patrik Hadenius, Editor in Chief and CEO of science magazine Forskning & Framsteg, also gave a presentation about why it is important to inform the public about science and scientific progress.
Interdisciplinary round table discussions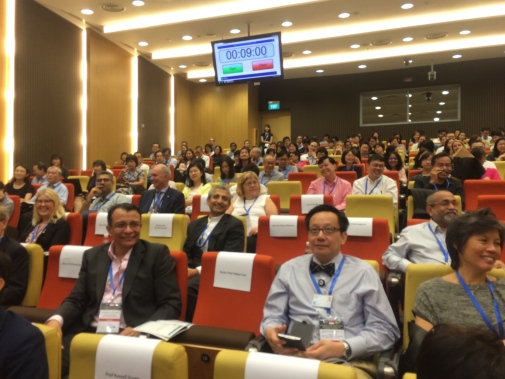 The second day workshops were hosted by the collaborating institutions in Singapore. In total, four sessions of interdisciplinary round table discussions were held at Singapore's top universities and higher education institutions National University of Singapore, Nanyang Technological University, National Institute of Education and Singapore Management University. The Ageing seminar, which was held at as an open lecture, attracted around 500 participants.
Participation of top researchers
The university delegations included top researchers from the six participating universities Lund University, Linköping University, Uppsala University, Stockholm University, Chalmers University of Technology and KTH Royal Institute of Technology, as well as University Presidents and Pro Vice-Chancellors who met their counterparts at a session where experiences in higher education management were shared.
Starting point for new collaborations
The Excellence Seminar, which was a great success and hopefully a starting point for new collaborations between researchers from the two countries, was organised in cooperation with the Embassy of Sweden in Singapore, who held a reception for the Swedish delegations, the Centre for Advanced 2D Materials, Department of Surgery, National University of Singapore, Nanyang Technological University, National Institute of Education, Singapore Management University. The last day of the visit in Singapore, Nobel Media invited the delegations to participate at their major event the "Nobel Prize Series" on "The Future of Learning", which among others included five Nobel Prize Laureates.
Swedish Academic Collaboration Forum
The Excellence Seminar was the second seminar in a series of six within the Swedish Academic Collaboration Forum, where Swedish universities participate with counterparts in five foreign countries to develop research exchange relations during 2014-2016. In addition to the seminars previously held in the Republic of Korea and now in Singapore, seminars will be held in Brazil, China, Indonesia, with a final meeting in Stockholm, Sweden.
The project is funded by The Swedish Foundation for International Cooperation in Research and Higher Education (STINT). Next stop is Shanghai in China 16-19 November 2015.
Last updated: November 12, 2015
Page editor: Helene Komlos Grill
Source: External Relations and Communications Office