Education and collaboration key when addressing water challenges
An international expert panel discussed the imperative water situation in the world at a Kapuscinski Development Lecture hosted by Stockholm University on Wednesday 3 February.
The panel included 2015 Stockholm Water Prize Laureate Shri Rajendra Singh and Stockholm University's researcher Fernando Jaramillo, whose recent study raised the global human freshwater footprint to a higher level than was previously thought.
The water crisis is one of the major challenges the world has to address, by 2030 almost 50% of people on the planet will be living in areas of high water stress, opening speakers Vice Chancellor Astrid Söderbergh Widding and Director of Stockholm International Water Institute, Torgny Holmgren underlined.
The talk, open to everyone, was held at Stockholm University's Studenthuset and attracted a full audience of students interested in water and sustainable development.
Local action
Laureate Rajendra Singh, who was interviewed by environmental journalist Karl Mathiesen from the Guardian, explained that his teacher had told him that "If you do nothing, you'll never reach what you want."
"I don't have special talents. But link local communities to science and you will get success. It is when you work with communities at the local level you can make a difference", he continued emphasising that the success of his work comes from learning from his community.
Rajendra Singh, who is also named Water man of India, pointed out that "When there is water, people are peaceful. When there is no water, people are tense and fighting."
Water use and plantary boundaries
The interview was followed by a presentation of the research conducted by Fernando Jaramillo, postdoc at the Department of Physical Geography, on how we are we affecting the water cycle. He asked: "We are using water, but how much can the earth tolerate?"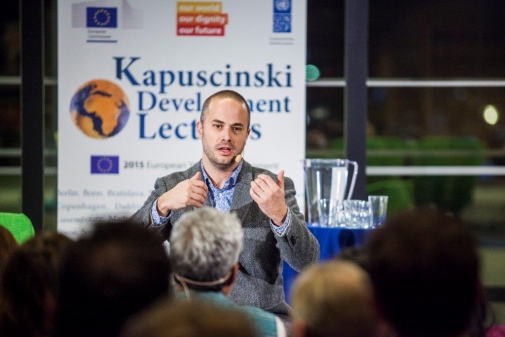 Jaramillo's study shows that dams and irrigation considerably raise the global human consumption of freshwater by increasing evapotranspiration. This effect increases the loss of freshwater to the atmosphere and thereby reduces the water available for humans, societies and ecosystems on land, and it has effects on our planetary boundaries.
"We know so little about water consumption. We need to encourage increased research on this topic", he said concluding that "We think about what water can do for us, but what are we doing for the water cycle?"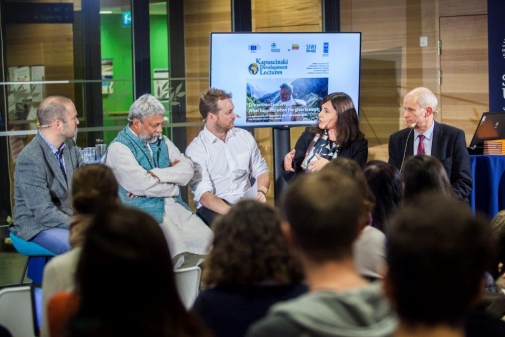 Water is a global issue
A panel discussion with questions from the audience and Rajendra Singh, Fernando Jaramillo, Ana Gren from the Swedish International Development Cooperation Agency and SIWI Director Torgny Holmgren, followed.
Topics such as international policies, local participation, gender, and community action were discussed. The panel concluded that water is a global issue and we need to collaborate to address today's water challenges for a sustainable future. More research and education of people at all levels, policy as well as on the ground, are key to make changes happen.
Kapuscinski Development Lectures
The seminar was part of Kapuscinski Development Lectures, a joint initiative of the European Commission and the United Nations Development Programme, and organised by Stockholm International Water Institute and Stockholm University.
The talk was streamed live and is available here.
More information about the event.
See more pictures, slideshow.
Video from Vice-Chancellor's blog.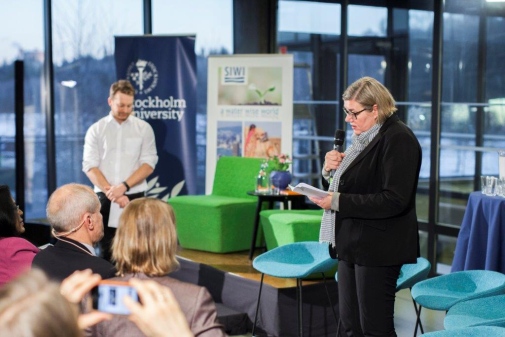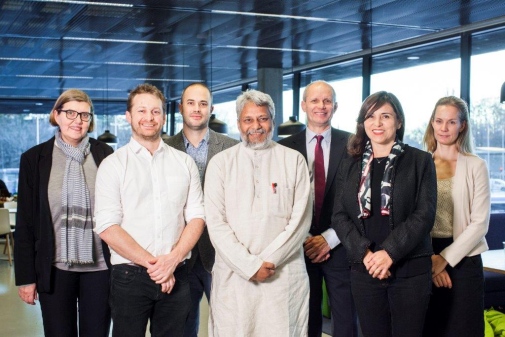 Photos: Niklas Björling
Last updated: February 15, 2016
Page editor: Helene Komlos Grill
Source: External Relations and Communications Office