Research institute with Turkey in focus
The Institute for Turkish Studies (SUITS) studies the issues surrounding Turkey from both European and global perspectives.
Expansive research on Turkey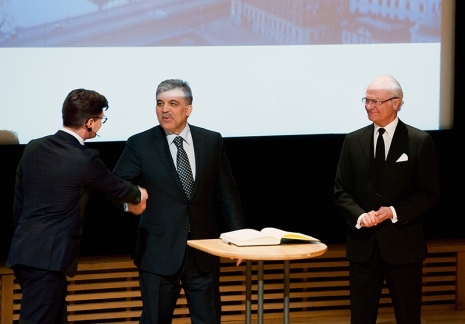 SUITS engages in research on a broad array of topics in Turkish society – politics, history, culture and economics – and explores the complexity and diversity that these topics illuminate.
According to Paul T. Levin, founding director of SUITS, broad, interdisciplinary research is essential to truly understanding contemporary Turkey.
The research focuses on three larger topics:
Economics, politics, and public administration
International relations
Culture, language and society
SUITS founding ceremony, March 2013
The founding of the institute was celebrated by attendees that included King Carl XVI Gustaf, President of Turkey Abdullah Gül, and Secretaries of State Carl Bildt and Ahmed Davutoglu. The ceremony was held in Aula Magna on 12 March 2013. The speeches noted how historic the occasion was – the first official Turkish state visit – and highlighted the long history of cooperation between the two countries.
Cooperation with Turkish and Swedish companies
The interest in the research has been very strong. From its very beginning, the institute established cooperative networks with many Turkish companies (e.g. Alarko Group, Sweturk and TOBB), Swedish companies (e.g. H&M, SSAB and TeliaSonera), as well as Turkish organisations concerned with issues surrounding democracy (e.g. Open Society Foundation, Turkish Economic and Social Studies Foundation (TESEV) and Turkish Industry and Business Association (TUSIAD)).
Last updated: February 27, 2017
Page editor: Kimberly M Parke
Source: External Relations and Communications