Collaboration increasing international visibility
Since 2014, Stockholm University has worked together with University of Helsinki in a strategic partnership prioritising the cross-disciplinary fields of Baltic Sea research, teacher education, language and linguistics.
The partnership concerns both education and research, and through the transnational partnership, special funds have been allocated for the Baltic Sea Centre, Centre for Research on Bilingualism in the Department of Swedish Language and Multilingualism, and the Faculty of Humanities.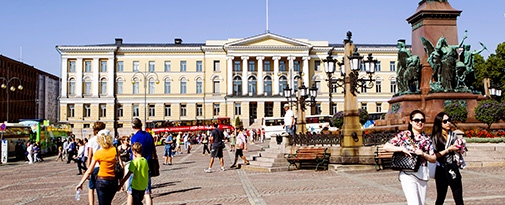 The exchange also includes doctoral students and postdocs through shared courses and projects at the research stations Askö Laboratory and Tvärminne. There is also an exchange program between the campuses for researchers and teachers to strengthen networks and develop language skills.
When the universities first met to discuss the possibilities for the partnership, they created a working group responsible for developing proposals outlining how the shared activities would proceed.
"Through this renewed cooperation, we will become stronger and more visible internationally in the areas of our mutual expertise which we have discussed," said Vice Chancellors Jukka Kola and Astrid Söderbergh Widding during their meeting.
The following activities are to be developed and implemented:
Cross-disciplinary research projects alongside acquiring European funding for them
Cooperation in PhD-level education with shared courses and programmes
Educational cooperation and exchanges with students, teachers and staff. Shared summer courses to put Nordic universities on the map, among other projects
The universities will also collaborate with infrastructure by taking stock of existing core facilities and opening the possibility of the partner university using them for a lower fee.
Last updated: November 1, 2017
Page editor: Kimberly M Parke
Source: External Relations and Communications

Featured Articles
Alf Norkko honoured with Royal Baltic Sea professorship

2016-09-27

It is now decided that Alf Norkko will receive the visiting professorship in Baltic Sea research which Stockholm University gave the King as a 70-year-gift. Professor Alf Norkko from the University of Helsinki is an internationally renowned scientist in the field of ecological Baltic Sea research.

Stockholm-Helsinki Baltic Sea collaboration

2015-02-04

The universities of Helsinki and Stockholm have initiated a collaboration with focus on Baltic Sea research, including researcher training and infrastructure development.