Collaboration with University of Tokyo
The University of Tokyo has established a collaboration with Stockholm's three leading academic institutes, Stockholm University, KI and KTH. The agreement concerning strategic partnership was signed during a ceremony at Scheffler Palace 25 September. Funding for cooperation projects with Tokyo have been announced, please find more information in the column to the right.
In 2014, University of Tokyo adopted a strategy to establish strategic partnerships with leading academic institutes around the world. Such priority partners include Berkeley, MIT and Cambridge – and Stockholm University, Karolinska Institutet and the Royal Institute of Technology, which it sees as a composite partner.
The collaboration centres on research and education under the watchwords excellence, interdisciplinarity and social relevance. Besides exchanges of researchers and students, the universities will also share programs on faculty development.
The agreement was signed during a ceremony at Scheffler Palace (Spökslottet). The first workshop within the collaboration, "Active ageing", was arranged on 21 September in Karolinska Institutet's Nobel Forum. Queen Silvia opened the workshop with a speech in which she said that questions of ageing and how society resolves them are important to both Sweden and Japan.
Stockholm University has announced a call for funding for research collaboration projects.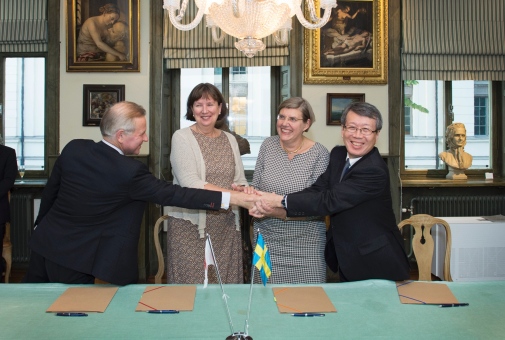 Featured Articles
Cooperation projects with Tokyo funded

2018-04-23

Seven projects at eight different departments have been granted funding for cooperation with the University of Tokyo. A new call for funding for collaboration projects with the closing date 30 September 2018 will be announced later.

First research collaboration between Stockholm and Tokyo is on ageing

2018-01-19

How can research help a society deal with an ever-ageing population? This issue was discussed at a workshop held to mark the start of a collaboration between Stockholm's three leading academic institutes and University of Tokyo.