Japanese students visit Stockholm as part of university collaboration
A group of fifteen students from the University of Tokyo visited Stockholm in September. The ten day program took place as a part of a collaboration between Stockholm University, The Royal Institute of Technology (KTH), Karolinska Institutet and the University of Tokyo. The three Stockholm universities constitutes one of ten selected strategic partners for the University of Tokyo. Other partners include Berkeley, MIT and Cambridge.

The program was also part of the celebrations of the fact that Japan and Sweden have had diplomatic relations for 150 years. The theme of the programme during the visit was Nobel as a way to inspire research. The students had an opportunity to listen to seminars and meet with professors at Stockholm University that are members of the different committees selecting the Nobel Laureates. They also visited the Bergius Botanic Gardens alongside another group of students from the Australian National University, another strategic partner to the University of Tokyo. Royal Institute of Technology (KTH) and Karolinska Institutet each welcomed the students for a full day of events on their respective campus.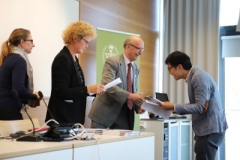 During the final session former Swedish ambassador to Japan, Stefan Noréen, bestowed each student with a diploma and a book commemorating the 150 years of diplomatic relations between Sweden and Japan.
Call for special funding for collaboration with Tokyo
In addition to exchanging researchers and students, the Stockholm and Tokyo universities will collaborate on the development of teaching and learning. Stockholm University has announced special funding for collaborations with the University of Tokyo. Deadline for the second call is 5 October 2018.
Agreement between Stockholm and Tokyo
The agreement was signed in September 2017 during a ceremony at the Scheffler Palace in connection with a Japanese visit and a symposium at the Nobel Forum on "active aging", which was also attended by Queen Silvia. The University of Tokyo is Japan's top university and has a strategy to establish partnerships with leading universities around the world. The Japanese university identified Stockholm's three top universities – Stockholm University, KI, and KTH – to form such a partnership together. In addition to exchanging researchers and students, the universities will collaborate on the development of teaching and learning.

Read more: Collaboration with University of Tokyo