Visit to University of Tokyo to further collaboration
A delegation from Stockholm University, headed by the Vice-Chancellor, recently visited University of Tokyo in Japan to further collaboration activities and to discuss joint future projects.
A strategic partnership project with University of Tokyo, Stockholm University, the Royal Institute of Technology (KTH) and Karolinska Institutet on interdisciplinary and cross-departmental research/educational activities was discussed at the meeting with at the University of Tokyo President Gonokami and Executive Vice President Haneda on 22 February.
Joint workshops and deepening of cooperation
"University of Tokyo, Stockholm University, Karolinska Institutet and KTH will in September jointly organize a workshop in Stockholm on the theme of "Ageing Well". We aim at deepening the cooperation between our four universities, which will include an annual workshop - hopefully next year in Tokyo, the year of the celebration of 150 years of diplomatic relations between Japan and Sweden", Stockholm University Vice-Chancellor writes in her blog.
Stockholm University delegation
The Stockholm University delegation included Vice-Chancellor Astrid Söderbergh Widding, Deputy Vice-Chancellor Anders Karlhede, Professor Gia Destouni, Professor Håkan Fischer and Professor Christina Nygren and Head of International Affairs Maria Wikse.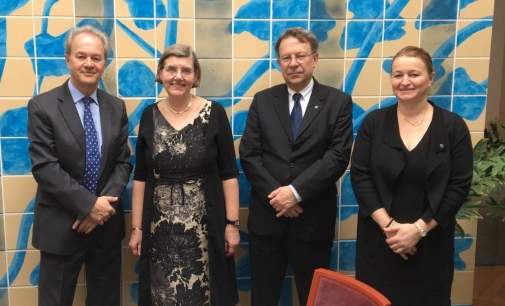 Visiting institutions
A group from the delegation also met with the Swedish the Ambassador Magnus Robach and on Friday 24 February, Vice-Chancellor Astrid Söderbergh Widding and others participated in a tour of the Kashiwa Campus and visited the Graduate School of Frontier Sciences, the Atmosphere and Ocean Research Institute (AORI) and the Institute of Gerontology (IOG), for discussion about future collaborations and a visit of their facilities and project works.
Last updated: March 10, 2017
Page editor: Helene Komlos Grill
Source: External Relations and Communications Office