Cooperation projects
Stockholm University works together with organizations in higher education and the broader society to develop cooperation and build relationships through shared goals. Cooperation projects are time-limited and often involve developing in a specific area.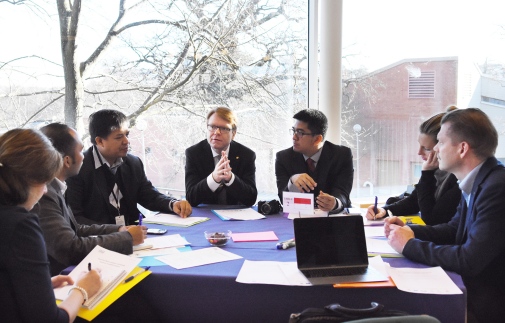 Academic Collaboration Chile and Sweden (ACCESS)
ACCESS aims to facilitate and deepen academic relations between Chile and Sweden in order to contribute to research excellence.
MIRAI
An academic collaboration project between seven Swedish universities and eight Japanese universities focusing on Ageing, Materials Science and Sustainability.
South Africa-Sweden University Forum (SASUF)
A collaboration project with universities from Sweden and South Africa with the overall aim to strengthen the ties between the countries in research, education and innovation.
SACF - Swedish Academic Collaboration Forum
SACF aimed to facilitate international academic collaborations and enable researchers and research students to become more connected with the global research community
Innovation Stockholm
The project aims to strengthen Stockholm's position as a centre of innovation.