Reunited after 40 years – studies in welfare attracted students to Sweden
They left campus to avoid pea soup and pancakes. The classical Swedish Thursday lunch did not impress the exchange students. The Swedish welfare model, however, was a different story.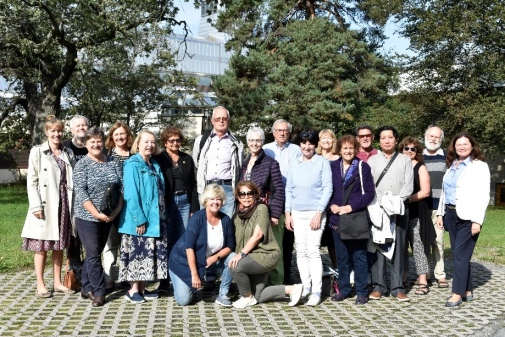 Alumni from around the world
40 years have passed since they studied at the International Graduate School at Stockholm University. When about twenty alumni from countries such as the United States, the Philippines, Australia and Belgium met up for a reunion at Stockholm University, it became clear that their time in Sweden made an impression, not only on a personal level but for many of them also on a professional one.
"Sweden was viewed as a leading country in the labor market area and that interested me", says Ellen Hansen from Wisconsin, USA.
Learning more about the Swedish labour market programmes was one of the reasons why she chose to study at the International Graduate School. She later on came to work as an expert at the International Labor Organization, ILO, in Geneva - partly thanks to her studies in Sweden.
"But I have also worked with Swedish authorities on labor market issues", says Ellen Hansen, whose interest in Sweden is partly due to her family history which has roots in Lund.
International study programme in Sweden
The International Graduate School offered a one-year master's degree with social science courses, including a course in Social Welfare. Just as Ellen Hansen, many students were interested in the Swedish welfare model and several of them came to work with social issues.
"There was an idea of Sweden as a welfare paradise, especially among left-liberal Americans", says Thomas Lundén, Professor Emeritus of Human Geography and Director of the Institute for English Speaking Students, IES 1979-86.
IES was formed to improve Sweden's reputation after the Second World War. One idea was to welcome American soldiers who had missed their university education and that is how some students came in the beginning.
"Gradually students from developing countries and other European countries also came. The reason was often simply that they had received a scholarship. But once they were here many of them became devoted and kept in touch with Sweden later on in their life", says Thomas.
Gateway to Sweden
IES served as a gateway to Sweden for foreign students who were not researchers, although some later ended up there.
"A couple of the political science students actually became lecturers and professors at Stockholm University", says Thomas.
There was also a tradition at the Institute of showing Sweden to the students and taking them out for excursions, museums and other activities.
"It was great to see how they reacted to Sweden. Most of them were very positive, although they thought some things were strange off course", Thomas says.
Nowadays, international exchange within education is a much more common phenomenon. Doris Venturanza from the Philippines remembers how it was back then, 40 years ago.
"I was often the only one with dark hair on the subway, so people used to reach out their hands to touch it. It was also difficult to find ingredients for the food I wanted to cook. But Stockholm was so safe and secure and we got to see so much. It was an amazing experience", she concludes.
About the programme
70 years ago, Stockholm University initiated a unique program in internationalisation by founding the Institute for English Speaking Students, IES, in close cooperation with the Swedish Institute. Through IES, foreign students could be offered courses held in English. IES was a separate institute at Stockholm University and consisted of three parts:
Swedish language courses for foreigners,
Stockholm Junior Year for persons with upper secondary education who were not qualified to study at Stockholm University and,
International Graduate School (IGS) where foreigners with a university degree could study and learn about Sweden. IGS existed for over 40 years so alumni who took part in the programme are found all over the world.