Stockholm Business School signs partnership with the European Club Association
Stockholm Business School announced that its Centre for Executive Education has entered a partnership agreement with the European Club Association (ECA) to provide academic business-related content to ECA's Club Management Programme for two years, commencing January 2016.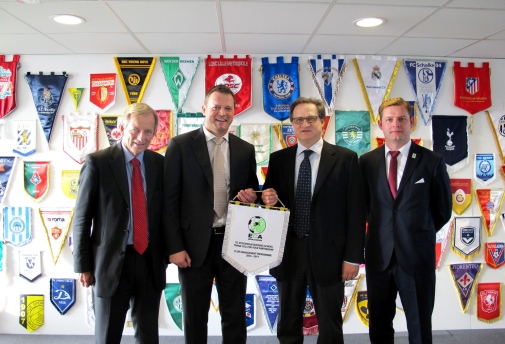 ECA is the sole, independent, body directly representing football clubs at European level. With a total of 220 Member Clubs, including many of the most well-known in European football, ECA has followed a trend of continued growth in recent years and, at the same time, has developed the range of services it offers to members. Its inaugural Club Management Programme, which emphasizes knowledge exchange and good practice in the game, will deliver club-related management development courses at stadium facilities across Europe to a cohort of executives drawn from its member organisations. SBS will be the exclusive academic partner to the programme.
A fruitful collaboration
Michele Centenaro, ECA General Secretary, commented "We are pleased to announce Stockholm Business School as academic partner of the ECA Club Management Programme. As a leading European business school, SBS will enrich our programme with academic business content and contribute to the future development of the course. We look forward to a fruitful collaboration." Olivier Jarosz, ECA's Membership Services Director added, "This is a qualitative step for the ECA Club Management Programme as it will benefit the participants of the CMP and will create a more detailed and all round programme through increasing its academic business content".
Dr. Ian Richardson, Director of Executive Education at SBS, commented "We're absolutely delighted that ECA have selected SBS as their exclusive academic partner for their Club Management Programme. ECA's commitment to good practice in the management of the game is reflected in the quality of business programme they've created and we look forward to helping them deliver the best possible educational experience to their member organisations".
Emeritus Professor Sten Söderman, a renowned thought leader on the subject of football and management, has previously worked with ECA in the development of its Club Management Guide and will provide advice in the development of academic content for the CMP. Stockholm Business School will be represented on the ECA CMP Scientific Panel by Dr. Ian Richardson.