Swedish food culture in Minnesota
When the American Swedish Institute in Minneapolis, announced a programme on Scandinavian food, Stockholm University was there. Richard Tellström, Associate Professor and Senior Lecturer in Meal Science and Guest Lecturer at the Department of Ethnology, History of Religions and Gender Studies (ERG) was one of the presenters, meeting Americans who had vivid memories of Swedish food culture.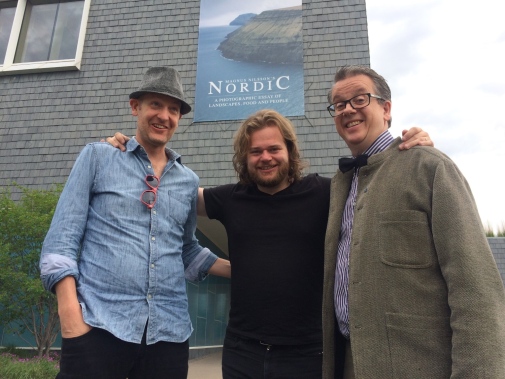 Richard Tellström wrote the foreword for "The Nordic Cookbook," a book with recipes and pictures from across Scandinavia written by master chef Magnus Nilsson from Fäviken in Jämtland. The book has captured the imagination of many Americans and the American Swedish Institute arranged a multi-day conference to celebrate Nordic food traditions. Both Magnus Nilsson and Richard Tellström gave presentations, and restaurants and local food producers threw events that attracted the many Swedish-Americans of Minneapolis.
A full house for Swedish food culture
Richard Tellström gave a lecture on Swedish food culture in front of a packed house, with many people excited to discuss their own family traditions. "Lutefisk", in particular, is an important dish in Minnesota, but Richard Tellström explained that Minnesotans probably ate more lutfisk than Swedes these days. He also said that meatballs, which many Americans consider the most Swedish thing ever, would quite possibly not even be on the top-five list of most popular dishes in Sweden.
Recipes from home
The audience was encouraged to bring their traditional recipes with them so the institute could scan and upload them to the archive. "The food culture in Minnesota is like a moment from late-1800s Sweden frozen in time," says Richard Tellström. "It's survived in an older form, not unlike how we preserve our own traditions with the julbord (Christmas dinner)."
Conversations on food research
Richard Tellström also held a round-table discussion with about a dozen local researchers and historians, with representatives from the University of Minnesota and Gustavus Adolfus College, among others. They discussed the possibility of a joint research project that would bring together food traditions with Swedish migration to the United States and today's migration.
Last updated: June 12, 2016
Page editor: Helene Komlos Grill
Source: External Relations and Communications Office