Stockholm welcomes new international students
During the weekend, international students arrive to begin their studies at higher education institutions in the Swedish capital. Stockholm University welcomes 1,162 new students from all around the world.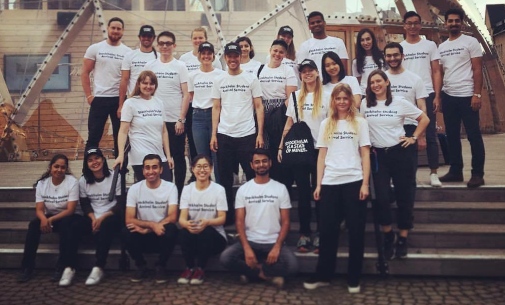 Annually there are about 5,500 new international students moving to Stockholm to study. During the most intense arrival days, 20-21 August, the City of Stockholm invites students to a welcome reception at Arlanda Airport in collaboration with the capital's universities. Students are welcomed by student guides at the airport and free shuttle tours to the university where they get information about their new hometown, guidance on the university, and receive keys to their student housing is offered.
"It is great for the City of Stockholm that a university welcome for the international students is organised in this way at the airport, this is unique for Sweden," says Ronald T Nordqvist at the Student Services Office, which coordinates the reception.
Orientation Week 21-25 August
The week after reception, welcome activities are organized at Stockholm University during "Orientation Week" 21-25 August. The programme includes an orientation day, guided tours of the university campus and the library, excursions, a guided tour of Stockholm city and a bus trip to IKEA, where students will be able to purchase what is needed for their new student residence.
High expectations
Many students are enthusiastic and happy to finally arrive in Stockholm where they will stay for one or several years depending on which programme they have been adopted to.
"I have heard very good things about Stockholm University so my expectations are high," said 21-year-old Khatantuul Batbold from Mongolia when she began her studies at Stockholm University last year.
More information
For the fourth consecutive year, Stockholm University participates in the city's reception of the students, coordinated by Stockholm Academic Forum for the city's 18 universities.
Arrival service at Arlanda Airport.
More information about Orientation Week at Stockholm University.
Last updated: August 23, 2017
Page editor: Helene Komlos Grill
Source: External Relations and Communications Office

Useful things to know as an international student