EU/EEA students 2nd round: Deadline for receipt of supporting documentation
EVENT
Date:
21 June 2018, 12.01 AM
-
21 June 2018, 11.59 PM
Venue:
universityadmissions.se
The deadline for receipt of supporting documentation in the second admission round for the autumn 2018 is 21 June.*
* If you are studying at an upper secondary school in an EU/EEA country or an International or European Baccalaureate programme, and your studies will not be completed until after 21 June, you have until 5 July to submit your upper secondary and IB/EB documentation. For IB-students please read more about submitting your results here.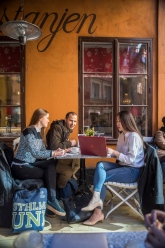 Because of the later dates, we do not recommend that non-EU/EEA students apply in this admission round as time will most likely not permit the acquirement of the necessary resident permit from the Swedish Migration Agency.
Stockholm University offers more than 75 master's programmes taught in English and also some programmes on bachelor's level, though not all of them are open in this admission round. Have a look at the wide range of options in our digital course catalogue.
You apply, send all supporting documentation and pay application fee/document exemption through universityadmissions.se.
For information regarding the deadlines for this application round, please see autumn semester timeline and checklist.