Indian students meeting Prime Minister Modi at Stockholm University
The Indian Prime Minister Narendra Modi met with Indian students and residents in Sweden during his State Visit to Sweden 16-17 April. The event, organized by the Indian Embassy in Sweden, was held at Stockholm University's Aula Magna with long lines of Indians waiting to attend the event.
Event for Indian residents
The event was attended by 1,600 Indians currently residing in Sweden, among them Stockholm University students Aarushi Balani, Saksham Marwah and Ronak Arora who study and have studied the International Commercial Arbitration Law master's programme at Stockholm Uniersity.
"It is exciting for Indians to welcome and meet with the Prime Minister in Sweden, the last time was thirty years ago, which is a very long time", said Aarushi Balani.
Indian and Swedish Prime Ministers
Stockholm University's University Director Eino Örnfeldt greeted Prime Minister Narendra Modi and the Swedish Prime Minister Stefan Löfvén to the event which was organized by the Indian Embassy in Sweden. The event included speeches by the two Prime Ministers and traditional dances and singing by Indian artists.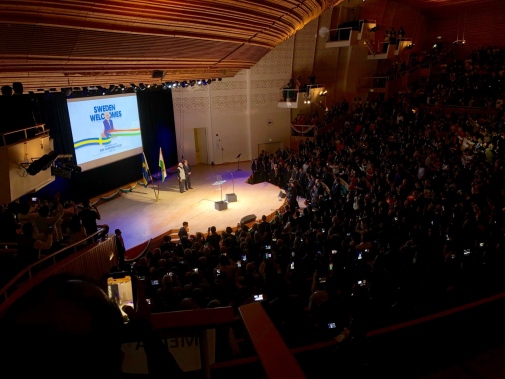 Last updated: April 19, 2018
Page editor: Helene Komlos Grill
Source: External Relations and Communications Office