Studenthuset
Welcome to Student Services in Studenthuset! This house has been designed especially for our students and it serves as a meeting place on campus.
In Studenthuset there are plenty of quiet and 'non/semi-quiet' places to study, bookable group rooms, rest rooms and breast feeding rooms, microwaves where you can heat up your lunch box, and a spacious café which offers student discounts.
---
Student services and support
Several student support units are based in this building, for instance study and career counselling, the Academic Writing Service, support for students with disabilities and the Admissions Office. The bottom floor houses Stockholm University Student Union.
On the first floor you find the Student Services' reception Infocenter.
---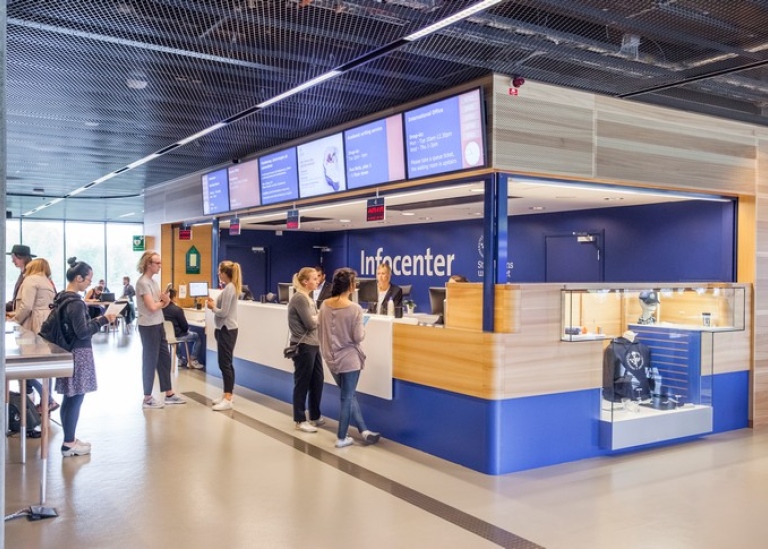 Infocenter – an information hub
Infocenter is an information hub for students and visitors at the Frescati campus. For international students it can be especially helpful during their first arrival days or weeks, for guidance concerning activation of university account, finding their way on campus etc. You can ask our Infocenter staff about anything concerning your studies, such as admissions, degrees, study certificates and student support. If needed you will be referred to other functions within Student Services or to the departments.
At Infocenter you can also buy Stockholm University merchandise.
---
Contact
Student Services – Infocenter
Visiting address: Studenthuset, Universitetsvägen 2B, Campus Frescati
Email: info@su.se
Opening hours for Infocenter
Monday–Thursday: 08.00–18.00
Friday: 08.00–16.00
Opening hours for Studenthuset (the building)
Monday-Thursday: 6:30-22:00
Friday: 6:30-20:00
Saturday-Sunday: 8:00-18:00
Please note that Studenthuset is closed on all national public holidays.
Last updated: January 7, 2020
Source: Student Services