Global Swede Award to excellent student
This year's Global Swede is awarded to excellent master's student in International and Comparative Education at Stockholm University, Elise Lammers, who was among the 20 students from 17 countries who received the prestigious award at the Swedish Ministry for Foreign Affairs.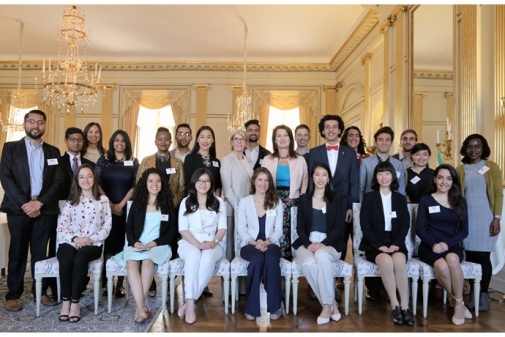 On Tuesday 8 May, the Ministry of Foreign Affairs, in cooperation with the Swedish Institute organised the Global Swede ceremony for the eighth consecutive year. EU and Trade Minister Ann Linde, Swedish Institute Director General Annika Rembe and the Head of Department for Promotion of Trade, Sweden and CSR Camilla Mellander participated in the ceremony meeting international university students currently studying in Sweden.
Award honouring international students
The students have been selected as excellent in areas closely related to innovation and entrepreneurship and shown that they are good representatives of their own country as well as Sweden. Global Swede is part of a long-term relationship building with international students in Sweden and aims at creating bridges of a transnational and multicultural network that contributes to Swedish trade in the long term and works to find solutions for the future.
"We must all work together to overcome the new challenges we face. Now, more than ever, we need to be vigilant and protect democratic values. Enlightened, intelligent young women and men – like you – are crucial to make that endeavour succeed", Ann Linde said during the ceremony.
Active, committed and enthusiastic student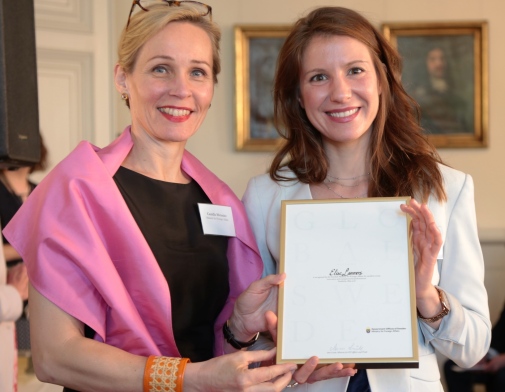 American master's student Elise Lammers is studying her final semester of the Master's Programme in International and Comparative Education at the Department of Education at Stockholm University. "She is an active, committed and enthusiastic student who has been an excellent representative of the university in international contexts. Elise has combined her interest in education and theatre in a project aimed at young asylum-seeking boys. Thanks to her broad international experience from the field of education and theatre, and her excellent social skills, she has been a valuable ambassador in many different contexts", the motivation says.
The Global Swede initiative
The Swedish Institute is a government agency that promotes interest and confidence in Sweden around the world. Attracting foreign talent is a key objective.
The Global Swede initiative is Sweden's way to honour young international students in Sweden who are outstanding in their field, and to stay in contact them in their future endeavours. Global Swede alumni are part of a broad alumni network, administered by the Swedish Institute which today comprises about 15,000 people from 140 different countries.
More photos from the ceremony are available at the Ministry of Foreign Affairs' photo archive.
Last updated: May 14, 2018
Page editor: Helene Komlos Grill
Source: External Relations and Communications Office