Meet Samantha Morrow, Kungstenen Scholar from Illinois
We spoke to Samantha Morrow, who has just completed her Master's programme in Hydrology, Hydrogeology and Water Resources. Samantha, who is a graduating senior in earth, society, and environmental sustainability and global studies (with a health focus) from the University of Illinois, was awarded the Kungstenen Scholarship to complete her Master's at Stockholm University.
The Kungstenen Scholarship was developed as part of a partnership between Stockholm University and the University of Illinois at Urbana-Champaign to support student exchanges, as well as research collaboration and an active commitment toward society.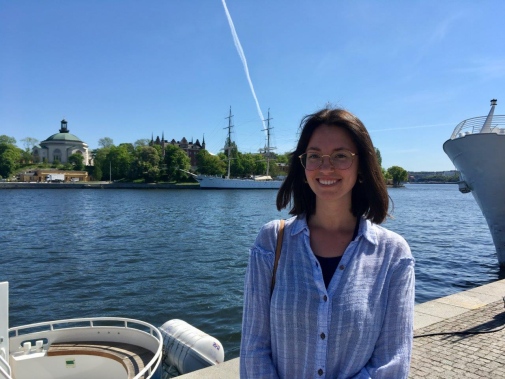 "I feel lucky that I was chosen to be part of this amazing experience through The Kungstenen Foundation scholarship. This one-time opportunity was given to only one student in 2016, and I was ready to make the most I can from this unforgettable experience. Previously, I participated in the Honduras Water Project and in the Arctic summer course with a programme at the Tarfala research station. Those two experiences inspired me to pursue further studies in Hydrology, thus, I chose to study the two year Master's Programme in Hydrology, Hydrogeology and Water Resource", Samantha says.
"My thesis was on the annual algal bloom in Lake Erie (part of the Great Lakes between the US and Canada). I chose this topic because algae blooms is a huge issue all over the world with the capability to damage ecosystems, economic industries. It also has negative health effects in humans", she explains.
Personal experience at Stockholm University
Samantha has greatly enjoyed her time studying at Stockholm University. "The educational system is completely different from my bachelor's programme at the University of Illinois. I liked being able to get in-depth with a subject over a course that lasts for 10 weeks, but I never felt like we were missing the big picture when going more in-depth", she says. "One of the big advantages was that my programme was in English, which saved me a lot of time. The students at Stockholm University come from all over the world, my programme specifically had half Swedish students and half international students", she says.
She describes the studying environment at Stockholm Unviersity campus as "easy going" with professors being willing to spend extra time to help in all possible ways. In addition, students, were able to interact and learn from the PhD students which were always helpful and supportive.
Life in Stockholm
"I loved living in Stockholm!" she says. Her favorite part is that one can be in the city and then in a forest 30 minutes later. "The fact that Stockholm consists of so many islands makes it so enjoyable to walk around and enjoy the scenic waterfront views of the city. Also, the well-established infrastructure in Stockholm makes it really easy to get from one place to another with reasonable cost", she explains.
"As for the people, Stockholm is a very international city that hosts people from all around the world. Throughout those two years, I was able to meet people with different backgrounds, each one with a different story and culture, the thing which enriched my knowledge about other countries", she says.
Recommendations to international students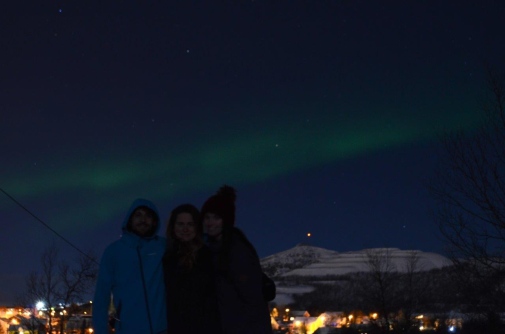 "As I am almost done with my master's degree at Stockholm University, I would be happy to share my recommendations with future international students planning to study at Stockholm. I would encourage all students to attend cultural or seasonal events held in the city! They really show you some of the best parts of Swedish culture and even cultures from around the world. It was also a good way to socialize and widen my network of friends in Stockholm. I attended many light ceremonies and activities during the winter, which made me feel less dark or cold through the dark winter days."
"Also, take advantage from your stay in Scandinavia and take short trips to nearby countries like Iceland, Finland, Norway and the Baltic countries through the many cruising companies available", she says.
An international student should not forget to visit key cities in Sweden like Goteborg or Malmö. "I have personally been to Kiruna and it was one of a kind experience to see the northern lights which colors the sky in green", she says.
Future plans
"Now that my two-year adventure have come to an end, I'm planning to go back to the US and be close by my family again. Career wise, I will be looking for a company that works with multiple sectors in sustainability with one being a focus on water quality improvement", she concludes and we wish her all the best in her future endeavours.
Text: Sousie Babekian
Last updated: June 10, 2018
Page editor: Helene Komlos Grill
Source: External Relations and Communications Office