Mapping the ocean floor and surfing the waves
Martin Jakobsson is a professor of marine geology and geophysics at the Department of Geologic Sciences. His research is focussed on the geological and oceanographical development of the Arctic Ocean. He has been to the North Pole three times and has even worked in the waters of the Antarctic.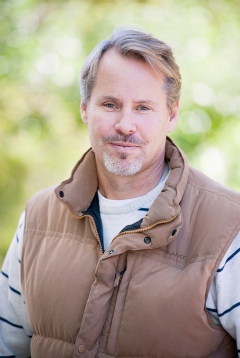 In order to map the Arctic sea floor, Martin Jakobsson has been on numerous expeditions with the icebreaker Oden and other research vessels in the Arctic Ocean. Because the Arctic is so sensitive, it's important to do the work on site. The data collection includes geophysical measurements and analysing samples from the seabed. All these observations are fed into a database and the digital models are continuously updated. The research produces a depth map of the Arctic Ocean and all the world's oceans, among other things. Even if the maps are far from finished, they are still the best available and are used by researchers and mariners the world over.
Getting the science to society
"We're the ones plotting the map of the Arctic Ocean, and we strive to get our work on Google Ocean and Google Earth as quickly as possible. It's also one way that Stockholm University contributes to long-term climate change research in the Arctic", says Martin Jakobsson.
Before becoming a professor at Stockholm University he was a fellow at the Swedish Academy of Sciences. In 2009 he became one of six young researchers at Stockholm University to share in a prize of 9 million SEK (1.1 million USD) per year for five years. The researchers were chosen for their potential to become nationally and internationally outstanding scholars in their fields in the following years.
Toward this end, the next large Swedish Arctic expedition was planned in 2014. It was financed in large part by the Knut and Alice Wallenberg Foundation for the purpose of studying the complex interactions between climate, permafrost, sea ice and the carbon stored under the permafrost, hoping to understand why global warming has happened even faster in the Arctic than elsewhere.
Passion leads to progress
But Martin Jakobsson isn't always doing Arctic research. The dedicated surfer took his honeymoon in the Azores, co-wrote an article with his colleague Otto Hermelin about the islands which was published in "Forskning och Framsteg", led an educationally focused excursion there and eventually wrote an entire book on the volcanic island group in the Atlantic.
The search for the perfect wave continues.
Last updated: September 11, 2017
Page editor: Kimberly M Parke
Source: External Relations and Communications