Student Unions at Stockholm University
The student unions are membership organizations with the purpose to represent the common interests of students. The most important assignment of a student union is to guarantee that students are able to influence their education, but student unions also have a major role in the social aspects of university life. Stockholm University has four student unions, one large and three departmental student unions.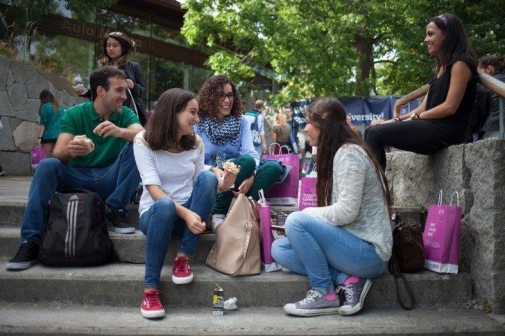 All Students have the Statutory Right to Influence
According to the Higher Education Act, a student union shall have as its principal purpose to monitor and participate in the development of education and the prerequisites for studies at their university.
The law also states that all students have the right to exert influence over their education. Each university shall work to make sure students take an active part in the process of developing courses and programs.
Stockholm University Student Union
The Student Unions' purpose is to represent the students' common interests. Although the most important task is to ensure you have influence over your education, we also take great responsibility for the social part of student and university life.
The Student Union is continuously working so that student perspectives are included wherever decisions that affect your everyday life as a student are made: from parliamentary decisions to course planning; housing and coffee prices.
Improved Quality of Education
The Student Union organizes student influence and represents you wherever official decisions are made by the University. Strong student participation is important to continually improve the quality of all education at our University.
We are overseeing major key questions at the university that are important to you as a student. They involve educational environment, equal opportunities and sustainability. You can get involved and participate through our networks.
Student Rights
We keep track of your rights and ensure that they are respected. Our Student Ombudsmen serve as a sounding board and advisors if you get into conflict with the university or if you feel mis-treated in any study-related situation. The Student Ombudsmen also support students who have been accused of cheating or plagiarism.
Support to international students
Stockholm University Student Union have an entire unit dedicated to international students, with three International Student Coordinators working for you so that you can get the most out of your time here in Stockholm.
The International Student Coordinators are charged with the task of organizing different events, helping you to get involved in student life at Stockholm University, and much more.
PhD Students
When transitioning from being a student to being a PhD student, one can sometimes feel caught between two worlds: on the one hand a student and on the other hand an employed scholar at the department participating in both teaching and administration. In many cases this change is only positive. In other cases, it may be perceived as problematic as PhD students may sometimes be regarded as "almost employees". If you are a PhD student, do not hesitate to contact or get involved in your local PhD Student Council.
As a PhD student you can always contact the PhD Student Ombudsman at the Student Union or representatives in the Central PhD Student Council (CDR).
As a PhD student you can always contact the PhD Student Ombudsman at the Student Union or representatives in the Central PhD Student Council (CDR). Find more information about what applies to you as a PhD student.
Activities for and by students
The Student Union together with student union associations, student councils and the Faculty Clubs makes sure that every week various activities for students at Stockholm University are organized. Most of them are free or very cheap. Look on the web and on the SUS's bulletin boards throughout campus to find info about what is going on.
Student Union membership
Membership gives you access to a wide variety of benefits and discounts on everything from course literature and lunch to public transportation and training.
The Student Union membership card is called the Campuskort. It is a student membership card packed with discounts and benefits and it doubles as an student ID. On the student union benefits web page, you can read about all benefits and discounts.

Student Union for Social Work in Stockholm (SSAS)
SSAS is a student union for those studying at the Department of Social Work.
Student Union DISK
DISK is the student union for those studying computer and systems sciences.
Useful things to know as an international student