Student writers' groups help students finding the flow
How do you make yourself sit down and write without finding excuses to clean the flat, bake a cake or sort the laundry? One way is to join the Academic Writing Service's student writers' groups.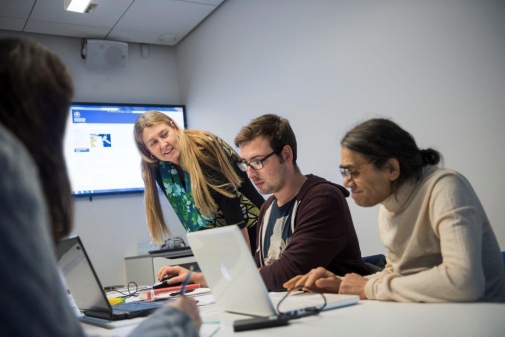 These groups have been initiated by Anette Campbell, Pedagogical Consultant and English Teacher in Studenthuset, and are aimed at students who want tips and advice when writing in English.
Good to get some feedback
Boris Bumbic has come to the group for the second time and is pleased to get some help with the structuring of his thesis which examines whether Donald Trump, based on his rhetoric, could be described as a populist.
– As I don't have a tutor this term it's great to be able to come here, get some feedback and see if I'm on the right track, Boris says.
Relaxed and informal
Fellow student Deepak Rattani has been to see Anette for individual coaching earlier and he finds the writers' groups very useful.
– It's relaxed and informal and you always learn something new. We don't sit around and talk but keep writing all the time, and often Anette is writing together with us.
If a student has a query that develops into a longer discussion Anette's office is conveniently situated on the other side of the corridor, so the other participants won't be disturbed by their talking.
The Academic Writing Service attracts both national and international students and the majority don't have English as their mother tongue.
Important to think in English
– I usually ask the students who come here what language they think in, Anette says. If you're writing in English it's important to think in English as well. Otherwise it could turn out like an Italian or a Chinese text with English words and that tends to be rather incomprehensible.
Some of the students don't think that their English is good enough for writing academic texts. However, instead of letting them resort to more or less drastic measures such as writing in their mother tongue and then applying an automatic translation tool, Anette advices them to use the English knowledge that they have and then write on those premises. Of course, they could then always work on improving their vocabulary and writing style.
Straightforward advice
When it comes to good methods for focussing and finding the flow, Anette gets right down to the core as she smiles and refers to a popular expression: Shut up and write!
The student writers' groups meet in House Beta in Studenthuset and you can read more about the Academic Writing Service here: su.se/writingservice