Idun (Norra Stationsgatan 99)
Idun housing is available for exchange students who are registered for studies at Stockholm University and non-European master students that receive a scholarship via Stockholm University Scholarship Scheme.
Idun is located in the city center, in the area called Vasastan. This apartment complex with 7 floors was built in 1968 and is owned by SSSB. In 2013 an additional 84 studio apartments were built and these are the ones that are available from the Housing Office at Stockholm University. These apartments are between 20,2-28,6 square meters and have a small kitchen area with stove (with oven and hot plates), a refrigerator with a freezer compartment and also a private bathroom with shower and WC. The apartments are for single occupancy and double occupancy. Smoking is not allowed in any of the apartments or the building. Pets are not allowed in any of the apartments or the building.
Important information for tenants staying at Idun
For more information about the accommodation, area, amenities as well as general rules and regulations please read the attached file located on the bottom of this web page called Important information for tenants staying at Idun. There you can also find a map of Idun and information on how to get to Idun with local transport.
Application Information
The Idun apartments are intended for double occupancy (2 students of the same gender sharing one apartment) but they can also be rented out for single occupancy (1 student living alone in one apartment). Note that we only have studio apartments at Idun so there is only one room in total (combined living area/sleeping area/kitchen area). When making a accommodation application you cannot choose a specific size or floor. You can however, specify under "additional information" if you would prefer a small room, a big room, a room on the ground floor, the cheapest room and so on.
Filling out the Application
If you want to share a studio apartment, you must specify that you want to share and include the name of the exchange student you wish to share the apartment with.
If you want to share a studio apartment, but do not have a specific student in mind to share with, you must specify on the application that you want to share, then the Housing Office will choose your roommate. (It will be another international exchange student with the same gender as you).
If the person you want to share with is your partner/spouse, (and that person is not an exchange student at Stockholm University), you must apply for single occupancy. You must then specify that you do not want to share the apartment. When you have received a accommodation offer you must then give the Housing Office the name of your partner/spouse so that we can arrange an extra key to the apartment.
Please note: If you choose Idun and you specify that you do not want to share, you will be booked in a studio apartment by yourself and you will be required to pay the full rent for the whole semester.
Amenities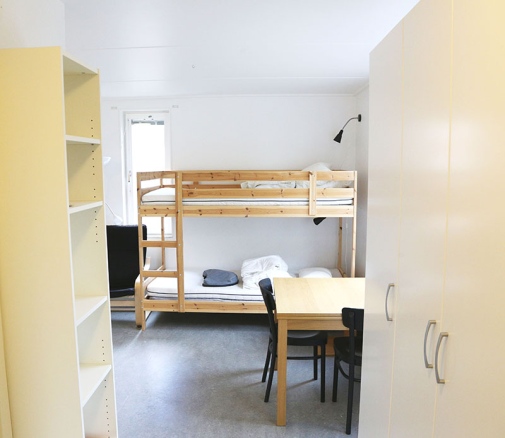 All Idun apartments are furnished with a dining table, two chairs, a bunk bed, mattresses (size: 200 cm long and 90 cm wide), wardrobes and lamps. Note! The furniture is the same for all apartments and we are not able to change, remove or add any furniture. You must bring your own quilt, pillow, sheets, towels and network cable.
Cooking utensils, dinnerware and cleaning articles are not supplied by the Housing Office. However, these items may have been left by the previous tenant for your use.
Rent and rent payments
All accommodations are rented for one semester with the possibility of extension for one more semester, if the student is continuing their studies at Stockholm University.
The rent for one semester per person for a shared apartment is between SEK 16600,00 and SEK 23400,00.
The rent for one semester if you rent the apartment by yourself is between SEK 33200,00 and SEK 46800,00.
The rent in both accommodations include heating, cold water, hot water, electricity and internet (not wifi). Important note! Excessive use of electricity will be charged extra.
The rent is paid in two installments. For more payment information please log into your accommodation account.
Internet
The internet is not wireless (no Wi-Fi) so you must purchase or bring your own network cable or router to be able to use the internet. Please note: Network cables or routers from other countries may not work in Sweden, so we suggest you buy it in Stockholm.
Keys
Upon arrival you will receive the keys for your studio apartment. You are responsible for your keys and if you lose your keys you will have to pay for the cost of a lock change, which can be as much as SEK 1000,00. Note! You may be required to buy your own padlock for your postbox.
Accommodation insurance
As the tenant you are responsible for your accommodation, including damages even if the damage is caused by a guest. No consideration will be taken in regard to whether the damage is the result of carelessness, an accident or some deliberate act. As the tenant you will be held responsible for payment.
As an exchange student you have a student insurance via Kammarkollegiet which should cover some or all of these costs. This is something you must check with Kammarkollegiet yourself.
Non-European master students (who are not here on an exchange) do not have insurance via Kammarkollegiet so you must purchase accommodation insurance yourself. Neither the building owner or Stockholm University can be held responsible for any theft or loss of your personal possessions and this includes your accommodation keys.