Student Services
Welcome to Student Services in Studenthuset, where a wide range of information about Stockholm University is available.
Infocenter
At Infocenter in Studenthuset you may ask about everything concerning your studies, e.g. admisson, student exchange, scholarships, degrees, student support and more. When needed you will be referred to other functions within Student Services.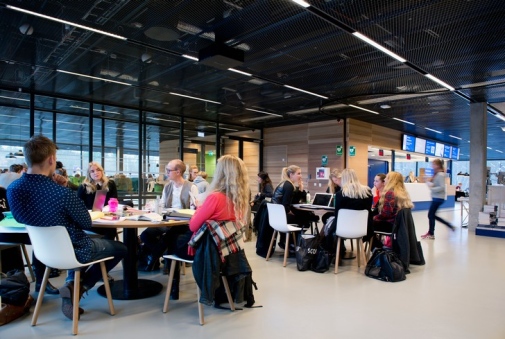 Current events and activities are shown on large plasma screens.
At Infocenter you can also buy Stockholm University profile products.
On the same floor as Infocenter there are plenty of study places and a spacious café that offers student discounts.
Study certificate
The easiest way to obtain a study certificate is to create one yourself by logging in to your university account at My studies. Certificates can be created for studies at Stockholm University, and as a national study certificate that includes studies at several Swedish universities.
However, if you need a study certificate with a stamp and a signature from Stockholm University exclusively, you can order this by logging in to Serviceportalen (click on Requests, Infocenter / Student Services and select the type of certificate you request).
If you do not have access to your university account you can order a study certificate by contacting Infocenter. Please specify if you want an Official Transcript of Records and/or a Certificate of Registration, if it should be in Swedish and/or in English, and if you want it to be sent digitally and/or by regular post (if so, please specify to which address it should be sent).