Studying with a disability
Stockholm University provides special pedagogical support to students with documented long-term disabilities. On this page, you can read more about common support measures and how to apply for support.
Only distance consultations until further notice
Disability service is currently not offering in-person consultations on campus. All consultations offered are distance consultations via telephone or Zoom. Information for students and staff about Covid-19 is found at: su.se/coronavirus
Apply for support and adaptations
Stockholm University provides various forms of special pedagogical support to students with long-term disabilities. The support is based on your individual needs and aims to facilitate your studies. The goal is to give all students the opportunity to study under equal conditions. The support measures should be reasonable with regard to the disability, the course requirements, and the intended learning outcomes.
Before you make an application, we advise you to read the information on the following two links:
Before you arrive at Stockholm University
To make an application, please contact us at disability@su.se as soon as you have been accepted to Stockholm University.
If you have been accepted to Stockholm University and have a Stockholm University students account you can apply for special pedagogical support by making a digital application online, via the system Nais.
Log into Nais via the link below and fill in the web form. To complete the application, you must attach a document verifying that you have a long-term disability. All documentation is kept confidential.
Nais is a system where students with long-term disabilities are able to apply for special pedagogical support at Swedish higher education institutions.
Nais is a national system, used by most higher education institutions in Sweden. Please note that your information is only accessible to the coordinators for special pedagogical support, at the higher education institution to which you applied.
In case of any questions, you are welcome to send us an e-mail: disability@su.se.
What can the coordinator help you with?
What can the coordinator help you with? The main duties of a coordinator for special pedagogical support are presented below:
Process cases for students with long-term disabilities.
Based on a certificate for a long-term disability and a conversation with the student, recommend and in some cases decide on special pedagogical support measures.
Collaborate with the departments on finding appropriate support measures.
Provide operational support to the departments.
After the application has been submitted
Once the application has been received, a coordinator will contact you to arrange a personal meeting. After speaking to the coordinator, you will receive a certificate describing your types of support. You should then contact a study counsellor at your department.
The study counsellor is usually your contact person at the department where you are studying. When beginning your studies, it is a good idea to introduce yourself and show the certificate you have received regarding the decided/recommended support measures. The counsellor can help you in your studies and answer questions about the department's courses. You can also discuss your choice of study with the counsellor.
At the start of a course
When you start a new course or course unit, please introduce yourself to the teacher and tell him/her what your needs are. The teacher may then want to see the certificate you received from the coordinator in order to be able to take it into consideration when planning the teaching and examinations. Please do not hesitate to ask for help when you need it. If something does not work, you are welcome to contact the coordinator at the Student Support Unit.
Your responsibilities as a student
If you have applied for and been granted special pedagogical support during your studies at Stockholm University, it is important that you understand what is required of you, so that your studies go as smoothly as possible.
The idea behind special pedagogical support is that students with disabilities should be able to pursue their studies on the same conditions as other students.
To a certain extent, the support should compensate for the difficulties the disability presents. However, you are always responsible for your own learning.
You should be able to acquire the required knowledge and skills and to present this. Your knowledge of the subject is assessed based on the same requirements as for all students.
The course goals must be achieved in order for you to pass your examination.
The coordinator for special pedagogical support can provide recommendations, such as alternative forms of assessment, but it is always the teacher responsible for the course, or the examiner, who decides which form of assessment is to be used.
In other words, you should learn and present the same knowledge as all students, but the way you do it can differ. Here is an example: one student reads a course book and takes an exam in a large classroom with other students, whereas another student listens to the book, takes the exam in a separate room and is granted additional time.
The contact person at your department is usually the study counsellor. Please contact the study counsellor as soon as possible, preferably before the course begins, to discuss your individual pedagogical support.
The following is required of you:
Please contact the coordinator for special pedagogical support as soon as you have been accepted to Stockholm University in order to discuss your individual needs and apply for special pedagogical support.
Well in advance of the examination – a minimum of 3 weeks – please inform the study counsellor/examiner if you need an alternative/accommodated form of examination.
Read about some of the types of special pedagogical support we provide at Stockholm University.
Please note that individual aids such as wheelchairs, walkers, hearing aids, and voice recorders are acquired by the students themselves or via the county council.
Note-taking support
If you are unable to take notes on your own during lectures and similar, you may receive lecture notes from a fellow student. Ask the study counsellor if there is a note-taker on the course. Otherwise, you can ask a fellow student yourself. The note-taker will be compensated for his/her work. Note-taking support is not a replacement for attendance. Thus, you will only receive notes from lectures/classes which you attended in person. If you have participated in the teaching sessions on a course and re-register to the same course in order to complete an examination, you do not normally receive note-taking support again.
Examination
Some students have the need to write examinations separately, in which case they may be able to sit alone or with a small group of fellow students. If needed, you may be offered an adapted examination upon consulting with the examiner, who decides on such matters. Extended examination time, examinations using digital aids, or alternative forms of examination are examples of adaptations that may be provided.
Course literature as talking books, e-textbooks, or Braille books
If you need your course literature in the form of a talking book, e-textbook or Braille books, please contact the University Library. The library can help you apply for a download account at the Swedish Agency for Accessible Media (MTM). Once you have your login details, you can download and use talking books in the way that suits you best: on a computer, mobile phone, or tablet.
For more information, and to see the opening hours for talking books registration, visit:
Information regarding talking books at SU
If you have any questions or need to book a meeting, email: lasstod.sub@su.se.
Mentor
If you have a diagnosed and documented executive function deficit and need help planning your studies, you may be provided with a mentor, who will act as a coach. The mentor can, for a period of time, provide an introduction to good study habits and demonstrate tools that can facilitate the planning and organisation of studies.
Educational interpreter
If you need a sign-language interpreter, you must contact Educational interpreting unit already when you apply for a course, programme, or exchange studies.
Interpretation between students
Text-to-speech
As a student at Stockholm University, you can download and install the text-to-speech software ClaroRead Plus. The software reads aloud digital text, such as websites, articles, e-mails, and your own written text. Install the program for free via the University website. The program must be reinstalled after a year.
Read more about how to install the text-to-speech software
Resource rooms are available in house Beta, in Studenthuset, for students with long-term disabilities. The rooms have height-adjustable desks as well as computers that are equipped with text-to-speech software, spell-checking software, dictionaries, etc. Students can book these rooms for individual studies. You need an access card in order to get into the rooms. This is ordered by the coordinator for special pedagogical support.
Accessible facilities and environment
At Stockholm University, we aim to make our facilities and environment fully accessible.
Adaptations of facilities
If the facilities need to be adapted, or if you encounter obstacles in the University's facilities, you are welcome to contact the Property Management Office, e-mail: fastighet@su.se.
Accessible toilets / RWC
You can find information about accessible toilets at the following link:

Map of Frescati (1306 Kb) .
Toilets with ceiling lifts are available in Södra huset, building C, floor 3. Arrhenius, building P, floor 2, northern part. The closest entrance is at Svante Arrhenius väg 20 F.
Accessible entrances and lifts
Contact your department's study counsellor for information on accessible entrances or lifts.
Accessible parking
You will find information on parking spaces at the following link:

Map of Frescati (1306 Kb) .
You can also contact the department's study counsellor for information on accessible parking spaces close to your department.
Relaxation rooms
Relaxation rooms can be found in Södra huset and Studenthuset.
If you need access to a relaxation room in Studenthuset, please contact Infocenter on the ground floor of Studenthuset. For opening hours and contact details to Infocenter, visit: Studenthuset and Infocenter.
If you need access to a relaxation room in Södra huset, please contact Servicecenter, Södra huset, house D, floor 4, next to Stockholm University library (telephone 08-16 24 00).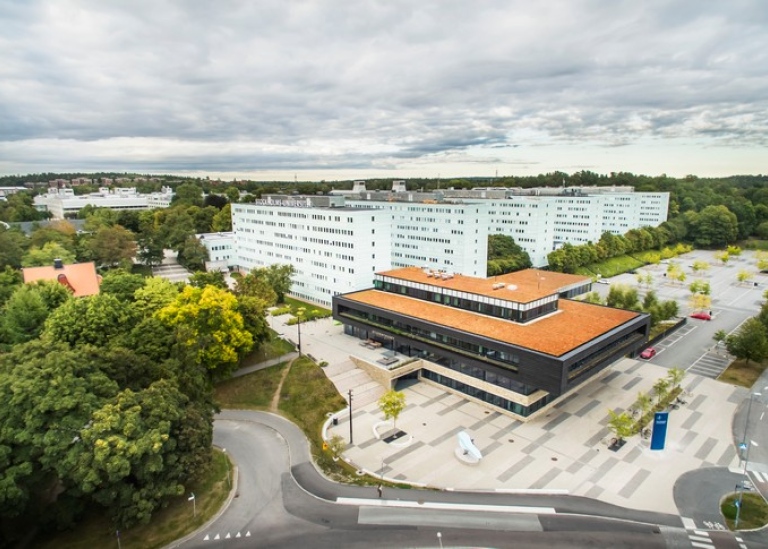 Bookings and questions
Email: disability@su.se
Telephone hours
Wednesday 13.00–14.00
Tel: +46 8–16 17 80
---
Anna Zällh Vahlquist
Mentor
Room 238, house Beta, floor 2, Studenthuset
Cecilia Widlund
ICT pedagogue
Room 236, house Beta, floor 2, Studenthuset​​​​
Emelie Ferm
Coordinator for special pedagogical support
Room 237, house Beta, floor 2, Studenthuset
Jeanette Johansson
Mentor
Room 235, house Beta, floor 2, Studenthuset
Lena Forslund
Administrator
Room 236, house Beta, floor 2, Studenthuset
Marie Archenholtz
Coordinator for special pedagogical support
Room 239, house Beta, floor 2, Studenthuset
Mia Karlsson
Group leader
Coordinator for special pedagogical support
Room 242, house Beta, floor 2, Studenthuset
Åsa Ferm
Coordinator for special pedagogical support
Room 234, house Beta, floor 2, Studenthuset
Last updated: October 27, 2020
Source: Studentavdelningen