Frescati Library
The Library's Christmas and New Year opening hours: December 23rd: 8 am-4 pm, December 24th-26th: CLOSED, December 27th: 8 am - 4 pm, December 28th-29th: CLOSED, December 30th: 8 am- 6 pm, December 31st - January 1st: CLOSED, January 2nd - 3rd: 8 am - 6 pm, January 4th: 9 am- 5 pm, 6th of January: CLOSED.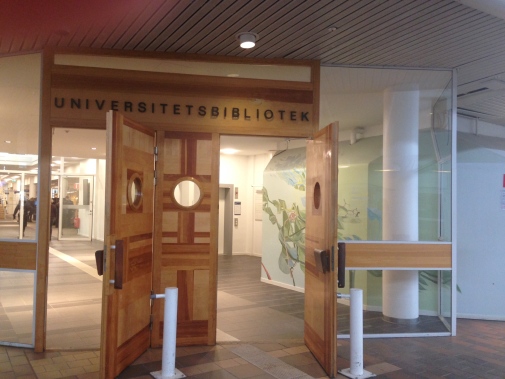 Regular opening hours
Monday - Thursday 8 am - 9.30 pm
Friday 8 am - 6 pm
Saturday - Sunday 9 am - 5 pm
The information desk opens at 9 am.
Telphone hours: Monday - Friday 9 am - 10 am, Saturday - Sunday 2 pm - 4 pm
Address
Universitetsvägen 14 D
Study Space
The Frescati Library is divided into two zones. The upper level is a quiet zone with over a thousand spaces for quiet reading. You can also sit with a personal computer and write. The ground floor is a zone where conversation is permitted, except in the quiet reading room, The Bergdahl Room. You can connect your personal computer to the wireless network throughout the library.
Group Rooms
Students of Stockholm University can book rooms at Frescati Library for group or individual work. Group rooms must be booked on our website. To book, you'll need an active university account and a current university card.
The rooms vary in size. Some are for one person and others are larger and can accommodate groups of up to 6 or 8 people.There is access to the Internet and Microsoft Office in all the study rooms with computers. All rooms are marked on map of the library.
Grouprooms can be booked for 9 hours total per fortnight. Book grouprooms here.
Allergy Room
There is a room with workspaces for those with allergies on the library's second floor. Please avoid strong perfumes, nuts and clothing that have been in contact with animal fur when you use this room.
Borrowing
The university card works as a library card at all branches of Stockholm University Library. Frescati Library is part of the university library. For more information about borrowing from the library, please find our loan terms and rules here.
The Collection
At Frescati Library, you will find a collection of textbooks. You must be a student or employee of the university to borrow textbooks.
Contact
Phone: 08-16 28 00
Email: kundservice.sub@su.se
How to get here
Metro: Universitetet
Roslagsbanan: Universitetet
Bus: 50, 540, 608, 670 and 676
Map
The Architecture of the Frescati Library
Stockholm University Library's main building is designed by Ralph Erskine (1914-2005), a well-known British-Swedish architect who worked in Sweden from the 1940s and into the 2000s.