Meet a librarian online
Do you have questions about loans or other matters? Now you can meet a librarian with our new service, Information point Online – a meeting through Zoom. One of many ways to contact the library. This article guides to different ways to communicate with us.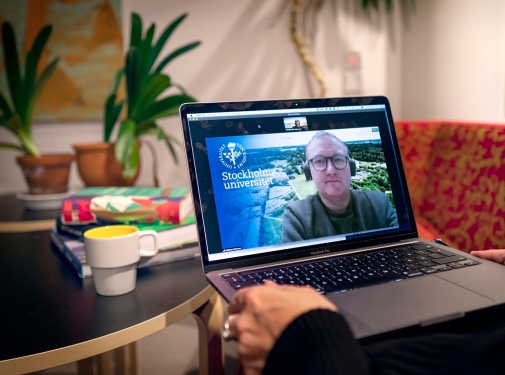 Fewer students visit the library on site, but the need for help with loan matters and other issues has not stopped. The staff of librarians who runs the chat, telephone, email and the physical information desk in the Frescati Library are busy – but nowadays the contact with users are mostly taking place online.
Latest news is that you now can talk directly to a librarian by Zoom every weekday at 10 am-11 am, and at 3 pm-4 pm. A service that the Library choose to call Information point Online, since it's intended to remind of the function in the physical Information desk at the Library.
Why is this service added?
– We noticed that some questions are difficult to answer by chat or email. You may want to share a screen and show what the problem is or what you may not understand. This service was previously done from the physical information desk here in the library, but can now be done from home so that you do not have to go here if you don't want to, says Carolina Engfelt, librarian at the Frescati Library.
What kind of questions can you take over Zoom?
– Most questions about loans. You may need help finding an e-book, or have questions about your loans, or how to re-borrow or order a book. Questions we usually take care of in the chat, but now you can meet us directly through Zoom and see the face of the person you are talking to.
How does it work?
– You go to the Library's home page, and in the box "Opening hours for the Frescati library" which is in the right column, there is links to Zoom. When you click on one of the links you end up in a digital waiting room where you have to wait your turn. We meet one person at a time there. If we don't have time help you that time, we will send a message to the waiting room.
Other useful tips?
– Yes, you can use our FAQ forum, which can be found in the right column on the start page under the heading Ask the library. There we have collected common questions that others have asked before and our answers. Many problems are solved after a quick look there.

Here are 5 ways to contact the library
Information point Online: By 10 am-11 am and 15 pm-16 pm every weekday there is the opportunity to meet a librarian through a Zoom meeting.
Chat: There is a chat icon visible on the library's home page, weekdays at 9 am-16 pm. Ask your question directly to a librarian in the chat.
On site: The information desk is staffed weekdays between 10 am-7 pm and at 11 am-3 pm on Saturdays.
Phone: By weekdays at 10 am-11 am you can reach the library by calling: 08-16 28 00
E-mail: Send a message via this contact form and your email will be answered as soon as possible.