Smarter printing
The printer room in the Frescati Library often has a long line of students waiting, especially around noon. You can avoid the queue by picking up your printout on any Printomat printer on campus.
All Printomats at Stockholm University are connected to the same network and share the same printer queue. You can pick up your printout within two days on any Printomat, so you have plenty of time to walk to i.e. the data lab in building A or in Lantis. That might save you a lot of time. When you get to the printer where you wish to pick up your printout you simply log in to the printer using your university card.
Today, 65 percent of all student printouts are made on the Printomats in the Frescati Library, which explains the queue outside the printer room. There are however Printomats in seven other locations within walking distance on campus – find out where in the map below!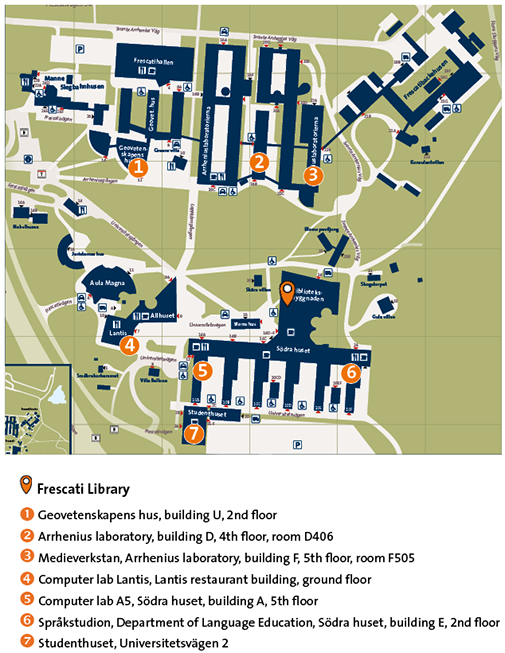 Other Printomats are located in other university areas, please see minautskrifter.su.se starting page for a complete list (English version available).
If you prefer to pick up your printouts in the Frescati Library but do not fancy waiting in a line, please avoid the hours around noon if possible.
Four tips for printing from the library computers
Tip #1 Download your files before printing
If you print your files from a browser (i.e. when you are logged in to Athena or webmail) the printomat sometimes print in full colour, which is more expensive.
Tip #2 Properties in the printing menu
Printomat default printing is in paper size A4, grey and double sided print.
Press Properties in the printing menu to choose optional paper size A3, colour and single sided print.
Tip #3 Printomat stapling
Press Properties in the printing menu and check the Staple box in order to get your printout stapled. Choose placement of the staples in the dropdown menu.
Tip #4 Printer Destination Printomat2
Make sure the Destination is Printomat2. If Destination is i.e. Print to pdf, please choose Printomat2 in the menu. Instructions are available at the computers.
Printouts from your own laptop
You need to install a printer driver in order to use the Printomat from your own computer. Please check Serviceportalen to find the correct driver and instructions for your computer.
Save money and spare the environment
The Printomat is also used for copying and scanning. Do you really need copies, or might a scanned file, sent to your e-mail address, work just as well? To scan and email the files to yourself is free of charge, while copying costs from 30 öre for a standard A4 black and white copy to 4 kronor for a large colour A3 copy. Scanning instead of copying is better both for your wallet and for the environment. Read more about scanning
Speaking about money…
You need to buy a print quota before you can use the Printomat. Log in to Mina utskrifter where you can check your balance. If the balance is 0, you will not be able to use the Printomat, not even for scanning.
You can also check your transaction history. The Printomat display sometimes seems to have charged you the wrong amount, but the correct amount will be visible once you log in to Mina utskrifter. Please contact helpdesk if you have been charged incorrectly for printouts.
Please check the security settings of your bank if you have trouble with your credit card payment for the print quota.