7th EMIC - Doing Academic Research in a Radically Changing World
The 7th EMIC idea conference takes place in Stockholm Business School of Stockholm University (online) during May 25-26, 2021. The pandemic, deglobalization, and the war have changed our research environment with a myriad of new challenges.
Under the theme of "Doing Academic Research in a Radically Changing World" the conference aims to brainstorm how to move our theories forward with policy implications. About 50 researchers from various continents will attend this 2-day conference.
The 7th EMIC conference hosts are Professor Jeremy Clegg, University of Leeds (UK); Professor Tony Fang, Stockholm University (Sweden) and Professor Fredrik Tell, Uppsala University (Sweden).

Program 7th EMIC (862 Kb)
Some of the speakers
Catherine Welch (Ireland, Research methodology)
Mike Peng (USA, Global Strategy)
Gary Gereffi (USA, Global Value Chain)
Peter van Bergeijk (Netherlands, Economic sanctions)
Thomas Hylland Eriksen (Norway, Social anthropology)
Anna Mia Ekström (Sweden, Global Health)
Rosalie Tung (Canada, cross cultural management)
EMIC ("Emerging Markets Inspiration Conference") was founded in Stockholm in 2016 and it runs yearly since then. EMIC has emerged as a small yet significant multidisciplinary idea conference focusing on future trends. EMIC demands no paper nor conference fee but interesting yet to be researched or published ideas.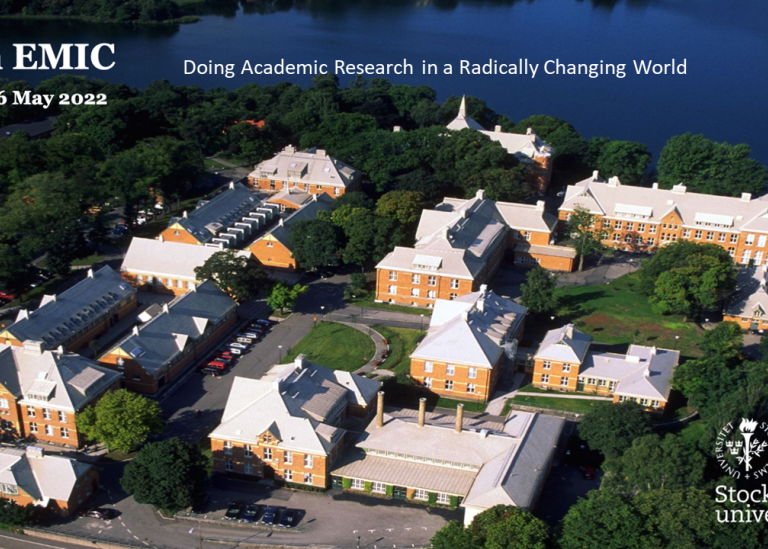 Last updated: May 31, 2022
Source: SBS