"Being a researcher in Sweden has been a dream job"
International researchers were welcomed at a reception in Stockholm City Hall at the end of November. Stockholm and Sweden are at the forefront of supporting science and equality, according to researchers attending the reception.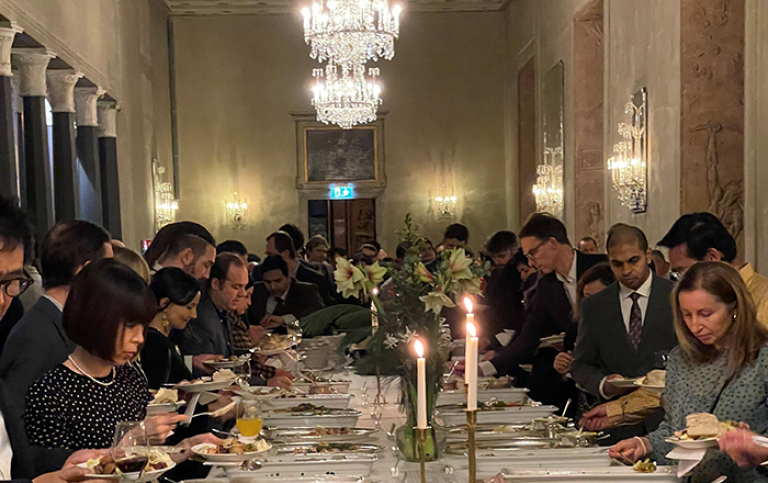 On 28 November, Stockholm Academic Forum*, in collaboration with the City of Stockholm, arranged a reception at the Stockholm City Hall in honour of Stockholm Dual Career Network, SDCN, that consists of international scholars and talents. In total, about 180 international scholars with spouses from 10 universities and colleges in Stockholm attended the event.
Welcomed by the President of the Stockholm City Council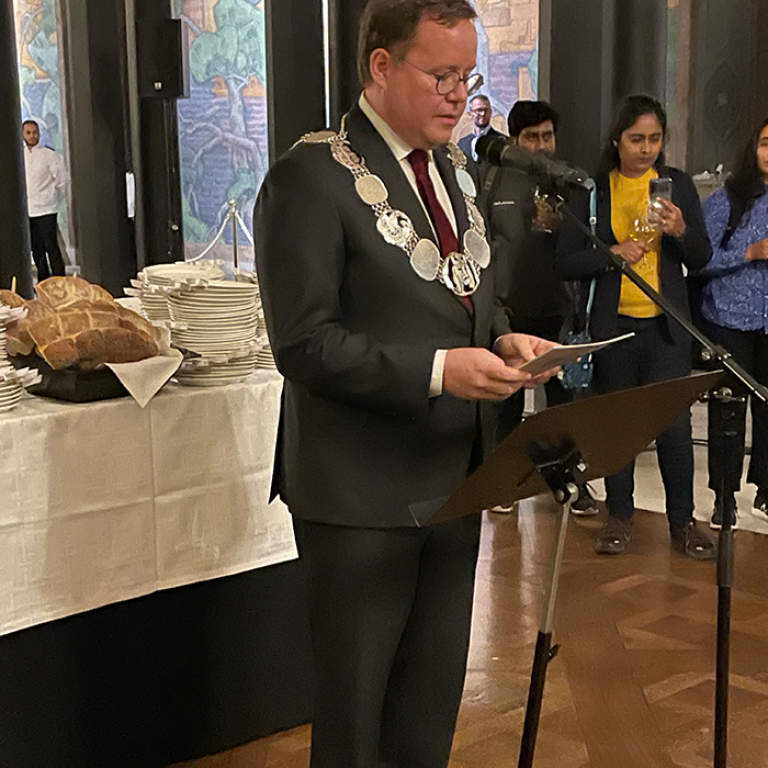 The guests were welcomed by the President of the City Council, Olle Burell, who among other things, spoke about the important contribution by international researchers making Stockholm a vibrant and innovative city. This aspect was also stressed by Karin Ekdahl Wästberg, Innovation Director of the City of Stockholm, in her speech. The following speakers, Professor Jason Czernezky at Pace University and former Stockholm University and Robert Egnell, Vice-Chancellor at the Swedish Defence University, talked upon issues like how it is to arrive to and live in Stockholm and the opportunities that exist for making it a wonderful time in your life.
After listening to the speeches and the SDCN International Talent of the Year Award 2022 ceremony it was time to enjoy the Swedish "smörgåsbord" (buffet) and to mingle.
We spoke with two of the researchers from Stockholm University that attended the reception.
Impressive reception in the City Hall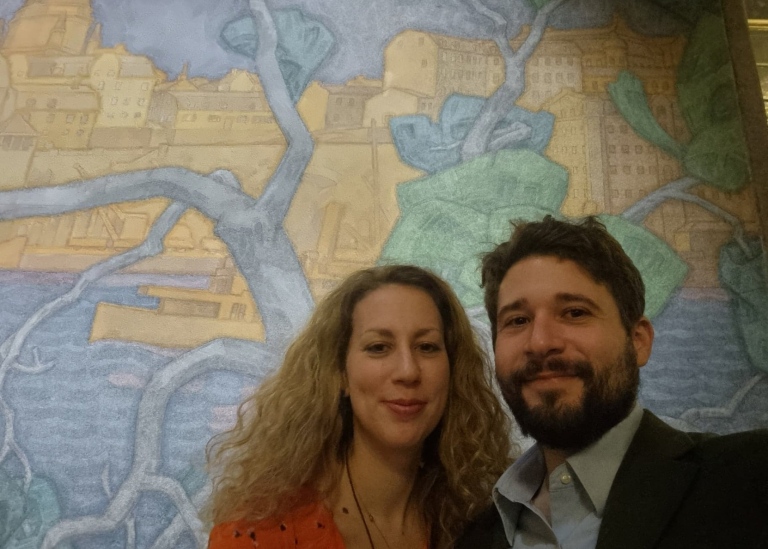 Varvara Apostolopoulou Kalkavoura is postdoc at the Department of Materials and Environmental Chemistry. She attended with her husband Panagiotis Evangelopoulos, who works at the research institute RISE in Stockholm.
"The reception in the City Hall was a very honorary event for international researchers as their contribution to research was very much appraised and appreciated. I was impressed by the presence of such important people such as the President of the City Council and I was also impressed by their simplicity and honesty while all speeches were very inspiring. It was also very important that we all learned about the significant activity of the Stockholm Academic Forum and understand how international researchers can be supported but also offer support to others," says Varvara Apostolopoulou Kalkavoura
And she continues:
"I feel very proud of being a researcher in Sweden and I would definitely recommend to other researchers to attend the same event next year."
How is it to live in Stockholm as a researcher?
"Being a researcher in Sweden has been a dream job since a very early age. When I first came to Sweden for ERASMUS studies, I was inspired by the organization in the educational system and the respect everyone was showing in the academic institutions. As the academia constitutes the cradle of knowledge, I am proud of being part of this community which actively contributes in the generation of innovative ideas which target to solve everyday problems. I also enjoy the close connection to the industry in Sweden," says Varvara Apostolopoulou Kalkavoura.
"Furthermore, as a woman and mom of three I never felt excluded and I always had time to develop my research and balance my personal and working life due to the excellent approach of the Swedish system which offers the possibility to raise your kids but also have a decent professional career."
She adds that the international environment in research offers excellent possibilities to communicate and collaborate in English before becoming fluent in Swedish.
What is your impression of Stockholm University?
After achieving several milestones at Stockholm University, firstly as a PhD candidate and then as a researcher, I feel that it is a place of opportunities where all hard work is highly appreciated. I very much enjoy that Stockholm University offers equal chances to all people and has very transparent procedures. Furthermore, it offers a very high level of studies and gives the impression that despite the hierarchy, most of the people can be approached and are willing to give advice and help.
And she adds:
"My impression is that Stockholm University follows the principles of the Swedish society which respects the diversity, rewards the effort, thinks outside the box, offers opportunities and promotes impartiality."
Inspiring being in the building of the Nobel Prize banquet
We also met Lesya Demchenko, guest researcher at the Department of Materials and Environmental Chemistry and in exile from the war in Ukraine.
"I was delighted to receive an invitation to this dinner at the City Hall. This place is so symbolic and inspiring because the Nobel Prize banquets take place here, and the City Hall itself is a beautiful historical place. I was inspired by the greeting from the President of the City Council Olle Burrell. I felt the importance of science and us, the international researchers, for Sweden and for the progress of all mankind. And Sweden is always at the forefront of supporting science," she says.

How is it to live in Stockholm as a researcher?
"Stockholm, like all of Sweden, is a very progressive city, a centre of science, culture, and art. Being here with my family, we get a lot of new knowledge, share experiences, learn and develop. I think it is important for every person."
What is your impression of Stockholm University?
"I am very comfortable doing science at Stockholm University. There is wonderful new equipment and devices for research and discovery of new materials and technologies for their production, and an excellent team for collaboration. I am happy that, despite the war, I did not stay behind in life but actively continue to engage in science and develop as a scientist, and Stockholm University provides me with such wonderful opportunities.

Lesya Demchenko adds:
"We are very grateful to Sweden, Stockholm University and everyone who supports us in this difficult time for all of us!"

*Stockholm Academic Forum is the peak collaborative body and collective voice of the City of Stockholm and its 18 universities and higher education institutions.
Last updated: December 12, 2022
Source: Communications Office