Nobel Prize laureate Annie Ernaux visited Stockholm University
Literature laureate Annie Ernaux visited Stockholm University on Friday to meet students and researchers. She candidly answered questions from the visitors who, among other things, wondered if she thinks we can escape our heritage and asked for her view of society's harsh treatment of the elderly. The conversation can be viewed digitally in French and Swedish in this article.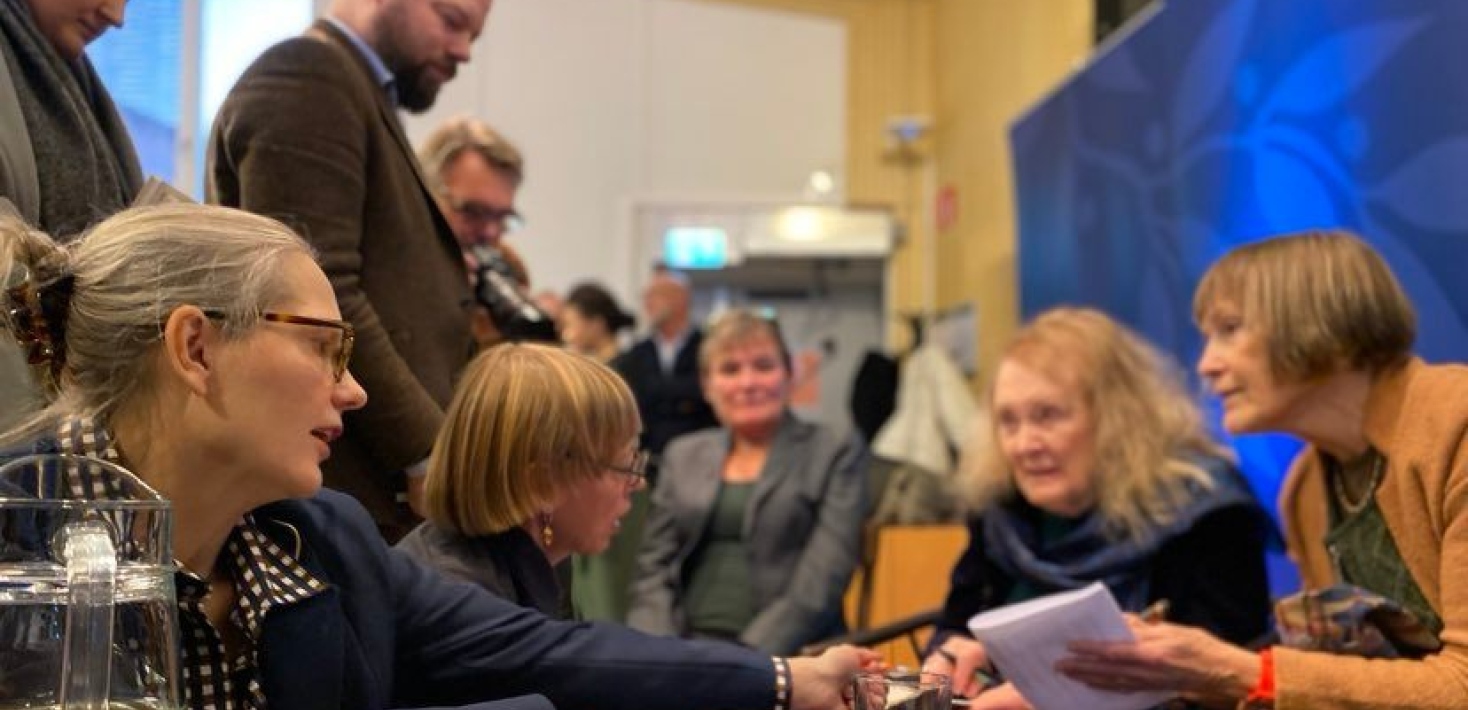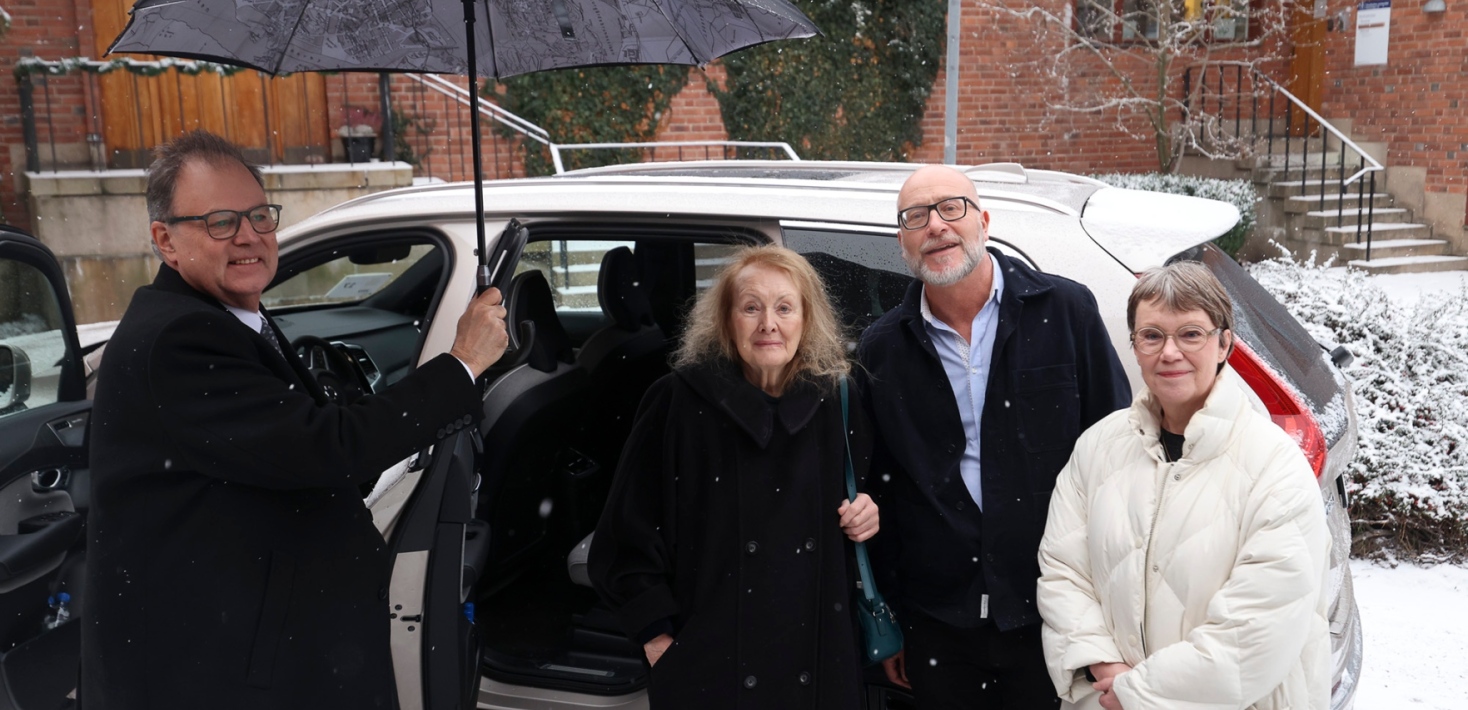 "I am so happy and touched to be back at Stockholm University. It is fantastic that universities like this exist, a green enclave in the middle of a big city, said Annie Ernaux, who pointed out that her real profession is that of a teacher, not a writer."
"A rewarding visit"
Astrid Söderbergh Widding, President of Stockholm University, opened the dialogue with a welcome speech in which she stressed that it is a great honor to be visited by Annie Ernaux, who with her books has made such an impression on the contemporary world.
"It is not the first time that Annie Ernaux is visiting Stockholm University - she has previously been here as an academic teacher. This was noticeable in the conversation, where her answers were characterized by deep respect for the questions asked by students and researchers, and by a sincere desire for dialogue. It was a very rewarding visit," says Astrid Söderbergh Widding.
"Captures the reader"
Foto: Anette Gärdeklint Sylla
Peter Blom, student of French at Stockholm University, got the opportunity to ask Annie Ernaux about her view of society's hash treatment of the elderly.
"I think that Annie Ernaux's literature captures the reader because of her social commitment. It shines through everything she does, even if she doesn't make a big deal out of it. Above all, it is Une femme, A Woman's Story in English, that I have become attached to.
In French and Swedish
Interspersed with the students' questions, the actor Siham Shurafa performed episodes from A Woman's Story and Circumstances. The conversation, which was primarily open to students and researchers in French and literary studies, was moderated by Alice Pick Duhan, postdoctoral fellow at the Department of Romance and Classics. It was held in both French and Swedish and is available for viewing digitally below.
Facts – Annie Ernaux
Annie Ernaux, born in 1940, made her debut in the mid-1970s and has since had a long and productive writing career. In her works, over 20 in number, she often starts from her own childhood, where fragmentary memories are mixed with the collective memories that characterize the time in which she grew up. She can thus be said to have invented her own genre, the collective autobiography. Some of her most famous works are Happening and The Years.

Prize motivation: "for the courage and clinical acuity with which she uncovers the roots, estrangements and collective restraints of personal memory"
About the visit

Boel Hackman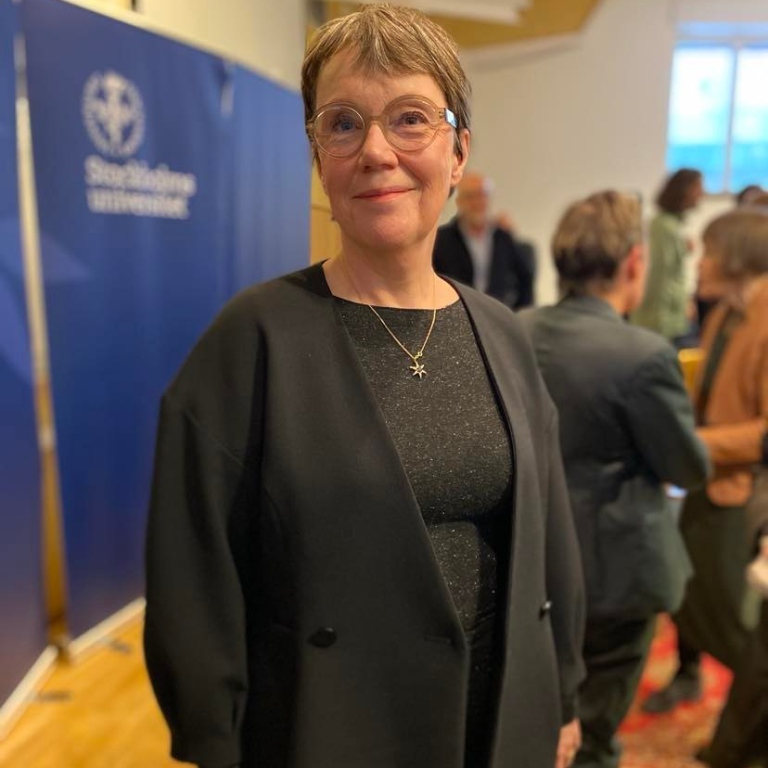 Photo: Anette Gärdeklint Sylla
associate professor in literary studies and head of the Department of Culture and Aesthetics
"I'm touched. It was incredibly moving to listen to Annie Ernaux. Her strength as a writer is that she has such simplicity in her style. She touches us being completely authentic. In the meeting with the students, it was also noticeable how generous she is. I think it is important for our students to get the opportunity of meeting someone who is a representative for all those things that are important to a university, such as humanity, democracy, diversity and everyone's right to be heard. Through her writing, she highlights stories other than those that are usually visible. I really think she is worth all our interest and commitment."
And more
Interpretation
The conversation with Annie Ernaux was interpreted between French and Swedish by conference interpreters trained at the Institute for Interpreting and Translation Studies (TÖI) at Stockholm University.
Read more about TÖI
Last updated: December 12, 2022
Source: Communications Office